1900-2000: Events that impacted North India
The Emergence of Haryana
By Raman Mohan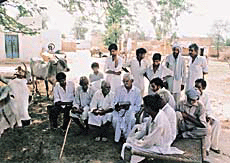 FIVE thousand years ago, Lord Krishna stood on the sacred land of Kurukshetra and gave Arjuna a sermon on karma. It changed the Indian thought and philosophy for all times to come. Today, in the new millennium, Haryana — the land of the Mahabharata — is about to take the big leap forward provided its people are prepared to heed to Lord Krishna words like Arjuna did.