Method: Heat coconut oil in a pan and saute garlic and onions for a few seconds.
add coconut and stir fry. add tomatoes and ginger. stir in the salt, white pepper powder, bay leaves and vegetable stock .simmer for 15-20 minutes till the tomatoes are cooked and tender .
put in a liquidiser and blend. strain through a muslin cloth.
stir in the cream and reheat before serving.
(Vegetable stock: this can be made by boiling 1 potato,1 onion, a few beans, a small piece of turnip or any other vegetable for 10 minutes. Strain and use the liquid as vegetable stock.)
Carrot Cream Soup
340 gm chopped carrot1 spring onion
85 gm boiled rice
4 cups water
4 cups milk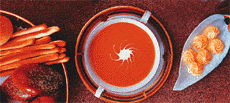 25 gm butter
1 tsp chopped coriander leaves
3 tsp corn flour
1/2 tsp white pepper
salt to taste
Method: Mix the corn flour to a smooth paste with a little milk.
boil the milk and stir in the corn flour paste. stir till it becomes a little thick. keep the milk stock aside.
Cook chopped carrot and onions in butter on a very slow fire for 5 minutes. take care that the carrots do not become brown.
add milk stock, boiled rice, salt, pepper,sugar, water and coriander leaves. bring to a boil and simmer for 35-40 minutes.
pass through a sieve. reheat and remove from fire. add butter and serve hot.(if the soup is thick then add some milk.)
French Onion Soup
6 cups stock (vegetable or chicken)
1 cup finely chopped onions
11/2 tbsp grated cheese
1/2 tbsp butter
1 tsp maida
salt and pepper to taste 1/2tsp sugar
Method: Melt butter in a pan and fry onions on very slow fire till these become golden brown.sprinkle maida and sugar and cook for a few minutes.
gradually stir in the stock.add salt and pepper and half of the grated cheese and simmer for 30 minutes.
sprinkle grated cheese on top before serving.
Cream of Almond Soup
50gm almonds
1 cup milk
1 small onion
3 tsp butter
2 tbsp corn flour
3 cups vegetable stock
1/2 tsp pepper
1/2 tsp salt
1/4 tsp cinnamon
powder
4 tbsp cream
Method: Soak almonds in water.remove their skin and chop them. soak the chopped almonds in hot milk for 15-20 minutes. blend in a mixer to get a smooth paste.
heat butter in a pan.add finely chopped onion and stir. add flour and stir again.
slowly add vegetable stock and bring to a boil. add salt, pepper and cinnamon and let it simmer for 10-15 minutes.
add the almond-milk mixture and heat gently.stir in 1 tbsp cream in each bowl just before serving and sprinkle a sprig of parsley or coriander.
Fish Soup
100 gm fish, steamed.( A head of fish is required for this soup).
1 onion
1 carrot
7-8 mushrooms
1 egg
1/2 cup cooked dal
8 roasted almonds
1 turnip
2 tbsp tomato puree
1/2 cup mutton stock
2tsp lime juice
2 cloves,cardamom
1piece ginger
6 cloves garlic
1 tbsp maida (fried in a little butter)
Method: Pour stock in a pan and add 5 cups of water, salt, cloves, pepper corns, cardamoms and cut mushrooms.boil it for 2 minutes.add fish head or slightly fried 1-2 fish pieces.
cook for 10 minutes and add cooked dal and grated turnip.cook for 10 minutes and add green chilli and fried maida.
remove from fire and add 2 tbsp of tomato puree.
strain and serve hot with lime juice and fried almonds.