Her kajal, bindi, saree image might seem at variance with the MTV culture, but surprisingly it has clicked well with the younger generation. Her voice can be pure passion and she has an exceptional sense of rhythm. Shubha says: "No music which I can sing unabashedly is bad." Her versatility is not in doubt and neither is her commitment to her profession.
She won the National Award for the Best Music for the documentary Amrit Beej. She gave the sound-track for Meera Nair's film Kamasutra, Rajan Khosa's Dance of the Wind, and has composed for dancers like Aditi Mangaldas and Sonal Mansingh. She has also composed music for Babol. She is a consultant to Music Today and Encyclopedia Britannica's website for the music channel.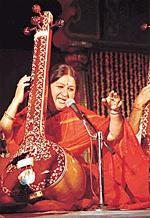 Shubha comes across as a person whose charm is mixed with razor-sharp intelligence. However, these days she seems to be nurturing few grievances against journalists. "Why don't you all write more about classical singers? Who really writes about people like M. Subbalakshmi? Most journalists wrote about my album Ab Ke Sawan. No one wrote that I am first and foremost a classical singer. My commitment to classical music has never wavered. I have never come to terms with performing on stage, Indipop or whatever you call it. I only sing classical songs on stage. I cannot come to terms with the Bisleri bottle culture in the auditorium. Why don't you all educate people about classical music?"
On being asked if she was making a feminist statement with Mann Ke Manjeere, she flew off on a different tangent. "The fight for self is a universal statement. The producer tried to make a social album, and the song was not written by me but by a talented writer, Prasoon, who has shown promise many times. Why attribute the whole success to me, I only sang the song."
On being told that the album had only attracted attention and sold because of her name, she said: "Selling music is not my business, only making music is my business. I only do my part. I was asked to sing, I sang." As far as her future plans are concerned, she reiterated: "I am a classical singer, I have spent my life for it. I will continue with it."
No one denies that Shubha has a strong classical base, but it is also true that she gained popularity because of her Indipop. In fact, she has dealt with both the music market and her personal world on her own terms. Her talent is not in doubt. Whether she will be known as an Indipop queen or as the princess of classical music, only time will tell. Meanwhile, Mann ke Manjeere has again hit the top of the charts
— Belu Maheshwari