Teen troubles are not teeny-weeny
By Aruti Nayar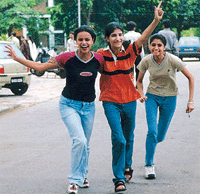 If the media images were to be believed then teenagers zip around on mobikes, guzzle colas, gyrate in and out of classes (college or varsity) and declare love from atop cars, roofs and trees. Enjoyment seems to be the keyword in this zone of in-between years, when hormones rage and the pulse races. Much to the discomfiture of adults around, banners of revolt are unfurled and the flag of freedom flutters in visible symbols of dress, expressed behaviour and the ever-so-ready retorts.
These years can also mean a period of strain, because more often than not "nobody understands". The ego is fragile and the identity just about to be discovered so what seems trivial to adults is vital to a teenager.
As the teenagers struggle and flounder, often in a sea of emotions, to make sense of the world around them, there are contrary pulls and pressures. They are invariably torn between the wishes of parents and other figures of authority for compliance and the desire to be loyal to their own peer group. Both these pulls are equally strong and to win this tug-of-war, parents and teachers have to make an effort to understand them.
As adults we really do not understand because we are by far too rigid, judgmental and prescriptive. As parents and teachers we are often harsh and unrealistic, given to excessive moralising and sermonising. As a society, we are poorly equipped to help teenagers channel their enormous reserves of energy and provide either parental support or institutional guidance.
While the teenagers lap up the highly romanticised notion of love projected by the rapid-splice media images, they are not prepared in anyway for the consequences of that 'love'. There are very few counsellors or avenues such as helplines to give them accurate information about sexual and reproductive health.
It is of extreme significance for the parents, teachers and other adults to learn how to effectively communicate with the youngsters. More so in this age of AIDS and heightened sexual awareness when sensible advice will come in more handy than homilies and pious platitudes.
It is easier said than done but if parents and teachers were to consciously avoid foisting their own half-baked ideas and notions on unwilling wards, it would work wonders. Just as listening ensures that the channels of communication remain open, careful use of language and avoidance of pejorative and damaging labels can help remove dissonance and improve communication.
It is unfortunate how those who can shape attitudes and mould minds are careless about the use of language, without realising how damaging it can be. Phrase such as "a failure", "worthless", "lazy, good for nothing", "what else can we expect from you?" are often used without realising their effect. If we find it difficult to empathise, understand or reach out then why label and brand? A teacher has no qualms about declaring, in an unabashedly prejudiced manner, about her teenage pupils: One should never trust them. They are just waiting to go astray.
A counsellor (so-called?) asserts, "I know how to fix these rascals, at their age they try to hoodwink us". There is hardly hope for a dialogue when those who can make a difference abdicate responsibility and see no contradictions in their behaviour.
While we can love our children and spend on their education and spur them on to excel, we must also try to understand them without passing fatwas. Parents have to decide on the right mixture of freedom and control for their wards. They will have to let them go if they want to keep them.
Perhaps it is the fear of them outgrowing their need for us that spurs us to be so autocratic. We would rather be feared and held in awe rather than befriend the teenagers for fear of them seeing our insecurities, warts and all! And then we also believe if we were to be friends, who would wield authority? Right question, but since it's we who are adults, we should be in a better position to negotiate our ways through the tricky terrain.
While it's important to let them hitch their wagons to the stars and carve out their paths, we have to be there for a gentle steering and the push should never turn to a shove.
If only parents would…
... not treat teenagers as nincompoops with a below average IQ, just waiting to go astray.
... not say ever so often: "No means no, because I said so".
... not be so nosey about each and everything that goes on in teenagers' lives and intrude without a thought for their space.
... not try to smother them or cordon them off from their peer group and be scathing about friends, especially those of the opposite sex.
... talk to them or with them and not always at them. Higher the pitch, the more deaf teens become.
... not brandish their wards' misdemeanours (real or imagined) in front of family, friends and relatives.
... not think that fun is such a bad word. Right, careers have to be made but these are sunshine years and oh! Ever so transient.
... be more liberal with praise and less with criticism.
If only teenagers realised …
... parents, who as it is are getting used to middle age and its baggage, are not exactly fossils. When they say: "When we were your age…", they are only trying to connect so it merits more than a yawn.
...home is much more than a hotel where one gets food, laundry done and there is no tidying up or pitching in needed. It is also not a transit camp in between college and socialising.
...since parents have to foot the bill, they might as well use the phone some times and actually make calls instead of just taking down messages.
... respect is not such a bad word, after all.
... there is no harm in volunteering to help instead of waiting to be scolded, goaded or yelled at.
... friends are great but do not deserve to be the cause of fights with family.