For instance, the art of block-printing in silk owes its sustenance to Ritu Kumar. Much like Frank Ames who immortalised the Indian paisley motif internationally, Kumar got the block print pattern into high-fashion salwar-kameez and lehnga-choli ensembles, making it her signature style.
Today, of course, every other Indian designer — from Monapali to Tarun Tahiliani — is going to town with the carved blocks, to the extent of creating Manchester florals and Scottish checks. These may not be strictly appropriate, but as works of art, they look great!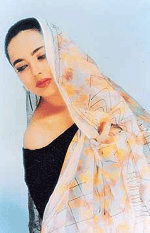 Among youngsters, there's Thakore from Ahmedabad's National Institute of Design who has been working with weavers to create top-quality cottons at affordable prices. The credit for replacing synthetics with multi-hued cotton (which is every working woman's first choice) goes to this young man.
Now, having joined hands with David Abraham, Thakore works with luxurious weaves that he crafts himself. His partner tailors the same fabric range into exquisite white shirts, multi-toned jackets and casual trousers.
Then there is Jain, known for introducing the ikat weave to international ramps in the eighties. A self-taught designer, she has reworked old techniques and fused regional styles of the weave with modern embroidery to produce a glorious harmony of the past and present.
Jain has to her credit the rebirth of several other design traditions: sufi embroidery from the shores of Kutch, Mithila paintings rendered on fine muslin, teliya rumaals (handkerchiefs) and baluchari weaves.
Likewise, to Modi goes the credit of reviving the famous karpuri weaves of Andhra Pradesh, which involves alternating between gold and silk threads during the weaving process. She gets gold tissue brocade woven to her specifications and turns it into classic bridal wear.
Modi also works with kin khwabs, the fabled weave, introducing suchcha zari (gold thread) in Benarasi silk and creating asymmetrical patterns in what has traditionally been a linear style of weaving Kota and Maheshwari sarees.
As she points out, the objective behind these innovations is to render the weaves soft and light-weight so that they are easy to drape and meet the demands of present times. The colours Modi uses are also very modern: aubergine, wicker, grey and old rose.
The Maheshwari weave has also been Geetanjali Kashyap's forte, if the shirts she retails at Galleries Lafayette in Paris are any indication. She also constantly experiments with geometric abstracts and floral motifs on a tie-and-dye print base.
To an extent, Kashyap's experience at designing jewellery has helped her with these innovations on clothes. She supports her creativity in these two fields with extensive field studies of temple sculptures and costumes, supplemented by in-depth research at museums and libraries.
Problems, however, arise on how much art you can possibly carry. The Indian fashion industry hasn't yet forgotten how M.F. Husain had tried to promote his daughter as a designer in the early eighties. He hand-painted his famous horses on sarees and signed them in the hope people would buy them.
People did, but nobody wore those sarees. In many homes in Mumbai, they can be seen displayed as wall hangings!
(MF)