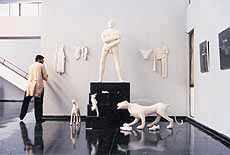 In this art form an entire exhibition space is transformed into a three-dimensional work of art. The range of materials used in installations is almost limitless. It was in the late 1910s that the modern aspects of installation-art started appearing in the work of those artists who wanted to go beyond the conventional concepts of painting and sculpture.
Artists of the Russian Constructivism, German Bauhaus and Dutch de Stijl movements believed that art and crafts should be integrated into architecture and design, and that domestic environments could be improved through a unified artistic approach based on pure geometric form.
Working in a more anarchic spirit, French-American artist MarcelDuchamp and German artist Kurt Schwitters crafted several early examples of works that fill and transform a chosen space.
In the late 1950s, Allan Kaprow, an American performing artist and art theorist, invented Happening, an artistic event.
The environments that Kaprow and other artists created provided a starting point for what later became known as installation-art.
Although the term installation-art is now more broadly applied, it defines artwork made in direct response to a specific environment. Installation artists shared an interest in making temporary use of evocative spaces for expressive ends. Some collaborative installations brought together many artists.
In the context of Indian art, our past art traditions testify, rather abundantly, that early Indian artists, much before the origin of the western concepts, were staunch believers of looking at art as a total environmental atmosphere and not as an individual or isolated entity. They, in fact, did not indulge in the simple exercise of stuffing one or the other given space with crafty creations, but strove to create an exhilarating complete-space.
Our numerous ancient temples, representing a highly evocative and visually stimulating spatial distribution, jointly crafted by anonymous artists or craftspersons, exhibit an elevating artistic cosmos of an extremely rare order. No wonder that not even a single element, from architecture to sculpture to painting to the onlookers or visitors (who also become an integral part of the total creation), can be disintegrated from these mighty installations of unbounded spiritual and physical charm.
Take, for instance, the Kailashnath Temple at Ellora, which is an 8th-century marvel. This monolithic masterpiece, with a rather complex architectural design, is undoubtedly one of the greatest of all Indian sites of sculpture. Here it is not only the architectural and sculptural merit of different forms that mesmerises one, but also the natural light that plays a significant and dramatic role.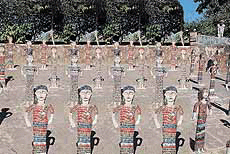 However, in the contemporary Indian context, the installations are as ambiguous and controversial as the rest of our art forms. Perhaps because the commitment with which our old masters used to work on their gigantic installations seems to be missing among most of the contemporary artists, who make installations perhaps only because they are Ďiní.
A bizarre example of this art form, however, was a disputable installation by Ved Nayyar, a Delhi-based artist, which was enflamed by him to add fire to a trifling award controversy in the Eighth Triennale (1994).
Another installation, by an English artist, Julian Opie, which was shown earlier in the Triennale at New Delhi, was also presented at Chandigarh as a part of its touring programme.
Though the chief concern of an installation artist is the proper division of the given space, the space in the Chandigarh Museumís main foyer was filled, not by Julian himself but by the carriers of the show, in such a haphazard manner that the show proved to be counter-productive.
Unlike what was well represented in Julianís elaborately produced catalogue, his meticulously painted panels gave here the impression of an awkward presentation. For, the panels were unimaginatively displayed in this museum along with ancient Indian sculptures that could not be removed from the site.
The recent controversy in Chandigarh was not aimed at this newly adopted art form. It was against the unethical use, rather misuse, of the established, and thus valuable, artworks from the museumís permanent collection as its tools.
On the contemporary Indian art scene, however, it is perhaps Nek Chand, an unassuming creative genius, alone who has developed his gigantic installation, in the form of internationally acclaimed Rock Garden, with the same creative commitment that our ancient Indian artists had displayed.