Keeping tryst with the race-track
By Peeyush Agnihotri
"WHERE there is will, there is a race track" — that's how the post-retirement life of 75-year-old Nihal Chand Garg can be aptly summed up .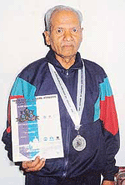 Eight years ago, Nihal Chand could barely walk owing to depression related to a domestic problem. While doctors had then stated that he would have to exercise his will to live, a soothsayer had forecast that he wouldn't live beyond 1993.
But God willed otherwise. Today, this septuagenarian is not only fighting fit but has won a silver medal in athletics. Nihal Chand, who retired as an Assistant Postmaster in 1984 and belongs to Moga, has settled in Chandigarh after his retirement.
His tryst with the race-track formally began in July 2000, when he sneaked out of his house, with a track-short tucked under his arm, and headed straight for the Sector 7 Sports Complex. He participated in three events (5 km walk, 100 and 200 m races) at a veterans' meet there. Though he did not win any medal, he came up to the national standards.