Backstreet Boys ó Black & Blue (HMV)
***
Backstreet Boysí first setback in their entire music career occurred when their arch-rivals (whether the boys like to admit it or not) Ní Sync sold a jaw-dropping 2.4 million copies of No Strings Attached. But fortunately the boys didnít take the challenge sitting down. The quintetís answer has come in form of Black & Blue. A high-profile, four-continent friendly album that boasts of its existence. The 13 tracks- helmed by a bunch of producers and writers, including Kristian Lundin, Babyface, Max Martin and Rodney Jerkins, is packed with superb melodies, harmonies and hooks, enough to rule the hearts of teeny-boppers. Surprisingly the cover does not feature any of the boys eschewing a glamour shot (did we hear some maturity alert alarm ?) The first single The Call takes you to a rhythmic rollercoaster ride. The Shape Of My Heart sports a chorus, while More Than That and Dan-Hill written I Promise You (With Everything I Am) give Boys enough space to demonstrate a modicum of real soulfulness. The entire album puts the spotlight on slower, mellower tracks that serve as better showcases for their individual vocal capabilities. And that is indeed where the Boys take the cake; with six of the songs co-written by the band membersó the album dutifully troops its way through the up-tempo fare such as Get Another Boyfriend and The Answer To Our Life. Jerkins offers some splendid performance on the staccato Shining Star and if you wanna know where the Boysí hearts actually are, listen to Yes I Will, Itís True and How Did I Fall In Love With You.
Backstreetís back, alright.
Alabina ó Salam (Sony Music)
**
Alabina comes from a refreshingly different world-music angle. Years after her successful album The Lambada with the French/ African group Kaoma and teaming with producer Charles Ibgui for the song Alabina, Ishtar offers a further slice of French/ Middle East- influenced material that made her one of the darlings of world-music. Salam, her first solo album, is mainly sung in French and offers various collaborations with prominent lyricists which include Jacques Veneruso, Lionel Florence and Didier Barbelivien. The album opens with the anthem Alabina (Mike Pela original version), followed by Salam, La Paz Al Final, a cocktail of Mid-East and Flamenco music.
Albina is defined by ambient textures; everything is vast and free, from the sturdy Choukrane to the warm Lolole (Donít Let Me Be Misunderstood). Ishtar stretches out to every possibility of attaining musical freedom. The simplicity of the music makes it soothing. The tracks that stand out include Salma Ya Salma (Ole Y Ola), Vengan Vengan (Ya Habaybi, Ya Ghaybine) and Baila Maria. Overall this is a triumphant comeback of Ishtar as a solo performer, combining a fresh feel with the old swaggering exuberance.
Duets ó Motion Picture Soundtrack (Sony Music)
**
Duets is a comedy about six amateur karaoke singers who meet while competing for $50,000 grand prize in a karaoke contest. Predominantly a musical, this Bruce Paltrow filmís soundtrack surprisingly comprises of cast members eagerly belting out well-known hits and how well they handle it too. The first reaction after listening to the soundtrack? "Oh my God, she can sing!" The key selling point of this album is that Gwyneth Paltrow proves her worth as a performing artiste. The album begins with the fantastic Feeling Alright by Huey Lewis in a Joe Cocker mood and a very good rendition of Kim Cairneís classic Bette Davis Eyes. The rest of the album comprises some legendary songs, including Eurythmicsí super hit Sweet Dreams, Lonely Teardrops, Lynrd Skynyrdís Free Bird and Copacabana (a pre-requisite for every party). You just canít get your eyes...er...ears off Gwyneth.
Album of the month
Carole King - Natural Woman (Greatest Hits) (Sony Music)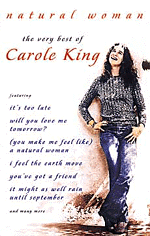 Carole King has been responsible for some of popís most enduring moments. The musical success story began in Brooklyn, New York, on February 9, 1942. Her love and aptitude for music was visible at an early age. At the age of four, she was a proficient pianist. Later transmogrified from Carole Klein to Carole King, she along with her collaborator/ husband Gerry Goffin, became a part of the great Brill Building writing partnerships of the age when the stars of the new born pop needed people to pen their material for them. Carole King turned out to be one of the biggest talents of the 1970s. Her 1971 LP, Tapestry is one of the classics of the genre and, at 24 million, is still the biggest selling LP by a female artist. The gold discs kept on rolling for her music, rhythm and simplicity, and this compilation offers some of those best moments in her musical career. The album chronologically presents best of Tapestry, every prominent soul-baring, key-pounding note. The headliners here include Itís Too Late, Jazzman, I Feel The Earth Move, Up On The Roof (live version with James Taylor), Will You Love Me Tomorrow, Brother, Brother, Hard Rock Cafe, Carry Your Load and It Might As Well Rain Until September. The album represents enough proof that the best work lives on, forever.
óSaurabh & Gaurav
The GrrrÖeat Music Zone Quiz
1.The name of which American lyricist is tattooed on Ellis Paulís arm?
2.In what year did Rick Nelson attempt a comeback in the genre of country rock with his Stone Canyon band?
3.What is the name of the self-funded live James album which was released in 1989?
4.Nick Van Gelder played what instrument for Jamiroquai?
5.Which of Ted Nugentís lead singers went on to lead the second coming of Bad Company?
6.On Dr Dreís album The Chronic 2001 who featured on the track Big Egos?
7.What was Jennifer Paigeís number one hit single in 1999 called?
8.What pre-Burning Airlines band did Pete Moffet play in?
9.Which famous singer features on most of George Washington Jr. albums?
10.What was the title of Warren Gís first single?
Answers
1. Woody Guthrie
2. 1969
3. One Man Clapping
4. Drums
5. Brian Howe
6. Hittman
7. Crush
8. Wool
9. Phyllis Hyman
10. Regulate
Top 10 singles
1. The Call Backstreet Boys

2. Better Man Robbie Williams ÁŤ

3. Love Donít Cost A Thing Jennifer Lopez ť

4. This I Promise You Ní Sync Í

5. If That Were Me Melaine C l

6. Independent Woman Destinyís Child ť

7. Walking Away Craig David ť

8. Donít Tell Me Madonna ÁŤ

9. Rollin Limp Bizkit l

10. Stan Eminem ť

ť Climbing up Í Falling down ÁŤ Non-mover l New entry