Kajol decides to 'phase out'
By Rakhee Gupta
RETURNING after a year in hubby Ajay Devgan's maiden production venture, Raju Chacha and in Kuch Khatti Kuch Meethi had prompted the media to announce the 'beginning of a second inning' for Kajol. After all, she has one more film lined up — Kabhi Khushi Kabhi Gham.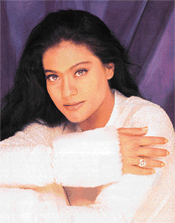 But the actress has different plans. "I am cutting down on my film assignments," she announced at a recent press conference, the first after her marriage to Devgun. "Wearing wigs, standing out in the sun for long hours and not getting my lunch on time have tested my patience. It's time for me to phase out."
Known for her rebellious nature and for having broken every rule laid down for a Hindi film actress, Kajol was last seen in Dil Kya Kare. But she is best remembered for super grossers like Dilwale Dulhaniya Le Jayenge, Ishq, Sapne, Kuch Kuch Hota Hai and Pyar To Hona Hi Tha.
These films have brought her countless awards over the past decade and a fan following that probably rivals Aishwarya Rai's and Madhuri Dixit's. Today, Kajol is arguably the most talented and versatile star on the mainstream movie circuit.
The compliments do not matter to her though. "If I were to listen to what people say, then I wouldn't be married," she laughs. "It definitely feels nice to hear that I am good, but I don't get carried away by the compliments. I know my limitations. And I have my priorities."
Her priorities are her marriage, home and the family production house, Devgan Entertainment. The company was started by her father-in-law, the veteran stunt director Veeru Devgan and Kajol is now taking it ahead with a public issue and venturing into the world of Internet.
"The fact I am enjoying a fruitful career apart from acting is a satisfying feeling," she reasons. "My company needs as much of my attention today as my movies did earlier. So I am balancing my time by acting in one film a year and concentrating on other aspects of my life the rest of the time."
But then, it is not as though she regrets having got into films: "My mother (Tanuja) was in films. My aunt (Nutan) was also a great actress. So was my grandmother (Shobana Samarth). So ours is a filmi family. My cousin (Rani Mukherji) is also an accomplished actress and doing very well for herself.
"I guess, the best thing cinema does to you is that it builds up your confidence. Before I took to acting, I was rather shy, a bookworm — even as everybody called me scatter-brained and impulsive. Today, I am a very focused person. Once I apply my mind, I can pull off anything. Cinema has done this to me."
So will she accept the offer of a good role?
"I didn't say I'd give up acting in films altogether. I have simply cut down on my assignments because of other priorities. I feel I need to do something different in life and if I do not take my chances now, when will I? That does not rule out the possibility of taking up a good film offer."
She pauses and adds: "I would certainly be attracted to a film in which I fit completely, as opposed to a role that is altered to my size. I want to be part of a film, not the whole film. Also the subject and the filmmaker have to inspire me enough to say 'Yes'".
Do filmmakers treat her differently, now that she is married?
Once again, she ponders: "Well, they have begun to like me a little more. Also strangely, they seem a little hesitant to approach me now. Earlier, people gave me weird looks. They used to call me "Ee Kajal' or at best, 'Didi'. Now they refer to me as 'Bhabhi'. Marriage has given me this protective mantle!" — MF