Such observations, in fact, led to early earthquake warnings in China on four occasions and timely evacuation on at least one occasion. The most successful earthquake prediction was that of the Haicheng earthquake in China measuring 7.3 on the Richter scale on February 4, 1975.
The sensitivity of animals to earthquakes before they occur is because of their ability to respond to ultrasonic waves, which travel faster than other waves. But such changes in behaviour could take place just a few hours or even a few minutes before the earthquake and are, hence, not of much help. With the prediction of earthquakes still a distant dream, scientists are trying to prevent earthquakes.
K.M. VASHISHT
Mansa
Mystic numbers
This refers to Khushwant Singh's write-up "Mystery behind mystic numbers" (February 3). The other day I visited the British Book Fair 2001 organised by the British Council. I came across a book 60 Ways To Heal Your Life by Hynda Field. Now why only 60 ways? The other book titled The Seven Laws of Money has been authored by Michael Phillips. Now why only seven laws? Some of our newspapers have columns wherein prominent personalities unfold five tips for the readers' benefit everyday. They also have a checklist of five things readers must do that day. Now why five tips and five things?
One keeps coming across articles with headlines like '5 ways to conquer worry' by Dr David B Pasen, and 'will your marriage last? These eight questions will let you know' by Aviva Patz in Reader's Digest. It shows that it is not only we Indians who have a penchant for numbering things as has been alleged by the writer in this column but foreign writers also suffer from this complex.
ONKAR CHOPRA
New Delhi
Gestures of courtesy
In his write-up "Of time-wasting rituals" (January 20), Khushwant Singh has remarked that garlanding guest speakers, performing aarti followed by a tilak, and reciting Allama Iqbal's Taraana-e-Hind (Saarey Jahaan Sey Achchha Hindustan Hamaara) and Guru Gobind Singh's Deh Shiva bar mohey ehai shubh karman tey kabhoon na taroon, when everyone is asked to stand up, as if it is the national anthem, are time-wasting rituals.
In fact, these are gestures of courtesy and hospitality. The distinguished guests have to be received with cordial greetings. Such rituals do not involve much time. The fault lies with the VVIPs and other leaders, who always arrive very late at the functions, while other wait for them for hours.
The writer has wrongly described the tenth Guru's aforesaid lines as an "invocation to Lord Shiva". Guru Gobind Singh believed in the unity of the godhead and never praised any one god or goddess. Shiva in the said line means the Almighty God and not the god of destruction. There is nothing wrong in asking everyone to stand up when the great Guru's invocation to God is being sung. Does not everyone stand up when ardas is recited?
BHAGWAN SINGH
Qadian
II
The writer conveys the way Ujjal Dosanjh felt harried by the never-ending rituals wherever he was invited, for he felt it was sheer waste of time.
Dosanjh's concern can be easily understood, for life in the western countries has become a bit too fast and the people have different work ethics, wherein they mostly endeavour to be to the point and work efficiently.
But in India, through even here life has become quite fast, especially in the metropolitan cities, people still have got time enough to convey their affection and regard in a relaxed way. They have still got time to convey the warmth in their hearts through flowers, agarbattis and garlands. Doesn't it keep one of the beautiful things of our culture alive? But of course, only one garland and a quick shower of petals should be more than sufficient to convey the message of welcome, for too much of every thing is bad and only kills its spontaneity by causing monotony.
AMRIT PAL TIWANA
Kalka
Gandhiji's humility
Apropos of R.N. Sharma's write-up "Gandhi's unparalleled humility" (February 3) which was short but engrossing. Gandhiji was indeed the embodiment of humility, kindness, honesty, fortitude, charity and truthfulness. Because of unparalleled attributes of his personality he left an indelible mark on the whole world, despite his frail physical structure.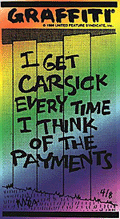 In his autobiography My Experiments With Truth, Gandhiji says that he had heard that a lawyer's profession was a liar's profession. But as a lawyer he always followed the principle of telling the truth which was put to severe test several times in South Africa. He made a firm decision never to tell a lie either for position or for money. He had built such a reputation for taking up right and true cases that false ones never came to him.
Have the lawyers of today got the guts to take up only true cases? The answer is an emphatic 'no'. In fact, everything done and practised by Gandhiji was unparalleled, unique, novel and matchless.
TARSEM S. BUMRAH
Batala