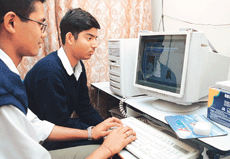 "One of the reasons? It is the main reason," rues Naresh Aggarwal, who had to close his shop in Sector 35. "Computers and the Net have become such a craze. Parents know that with a computer their ward has a future and with pool he lands up nowhere. So they prefer that their kids visit a cyber café rather than a pool shop," Aggarwal adds.
"Pool joints preceded cyber cafés in Chandigarh. Both had students as customers. The population in Chandigarh does not have much spending power, so only one of the two could survive. Cyber cafés blossomed and snooker joints wilted. Another reason is that pool joints require a huge investment while cyber cafés do not require so much of infrastructure," says Narinder Nagpal, another businessman who had to close down his pool joint and is into trading pharmaceuticals now.
Sceptics feel that none of them is having a ball and both businesses are set for darker days ahead. "Even cyber cafés are going to meet the same fate," Nagpal forecasts.
"Even today both are running into losses," says Narinder Pal Singh Chinna of 26 Carat, a snooker-cum-cyber café. "If the general feeling is that cyber cafés have weaned the customers away from the pool joints, business should have increased proportionately at the cafés. But that is not so. We are surviving because we do not have to bother about the rentals," he adds, and explains that both pool joints and cyber cafés got a huge response initially because of the "curiosity factor."
"Business at various pool joints has fallen by 60 per cent, on an average. Earnings have gone down by 50 per cent at my shop itself. All this is because the rates at cyber cafés have fallen from Rs 100 to Rs 20 per hour," says Vineet Khanna of Snook-8.
Those who have wrapped up the business are finding it hard to sell off their tables, wares and accessories.
"They are now shifting their base to towns and cities in Punjab and Haryana as the market is untapped in these states," says Prabhat Dogra, who closed down Billiard Café in Sector 34 and is into the printing business now. "Cyber café was partly a reason apart from high rentals," he adds.
Looks like cyber cafés are having a ball! For the time being, at least.