IN PASSING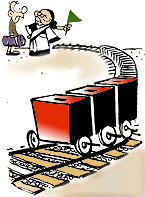 Vote here for boarding trains!

Fresh taxes in HP on cards
Mobilise own resources, plan panel tells Dhumal
Shimla, February 26
Fresh taxes are expected to be imposed in Himachal Pradesh by the Chief Minister, Mr P.K. Dhumal, in his Budget next month as the Planning Commission has clearly told him not to resort to market borrowings but to mobilise resources of the state.
Balco issue rocks House again
New Delhi, February 26
The Balco issue continued to rock Parliament for the third day today even as the government gave an assurance that the transfer of shares of the public sector undertaking would be held in abeyance till March 1 to enable Parliament to vet the Rs 551 crore deal.
Rights violations: US report indicts India
Washington, February 26
The US State Department today said serious human rights problems remained in India. It listed violations in Jammu and Kashmir and the north eastern states as torture and rape by the police and other agents of the government, poor prison conditions, arbitrary arrest and incommunicado detention.


It's a deep-rooted conspiracy: Sushant
Registration of FIR against three ministers
Shimla, February 26
The registration of an FIR against three ministers by the Kangra police has been described by the Revenue Minister, Mr Rajan Sushant, as a "deep-rooted conspiracy." He said here today that the matter would be discussed with the BJP high command as the Chief Minister, Mr P.K. Dhumal, had failed to take action in the matter.
Quake jolts Central Asia
February 26, 2001
Return Ayodhya land, VHP tells PM
February 25, 2001
Economic outlook gloomy
February 24, 2001
PM warns Lashkar
February 23, 2001
J&K truce extended
February 22, 2001
India lodges protest
February 21, 2001
Pak stalling peace process: President
February 20, 2001
GOC regrets firing, orders probe
February 19, 2001
Ceasefire likely to be extended
February 18, 2001
Fresh protests rock valley
February 17, 2001
4 killed in firing
February 16, 2001