IN PASSING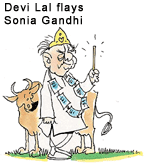 Soniaji is trying to exploit the kisan community's emotions by holding rallies !

Massive fire at Tata plant
Rajkot, March 2
At least 15 persons were injured, some of them seriously, when a major fire broke out on the Tata Chemicals Limited (TCL) premises at Meethapur, 180 km from here, this morning, causing an initially estimated loss of Rs 100 crore. Seven fire fighting engines were pressed into service. The blaze was put out at 2 p.m.
Punjab to give 10 cr for quake relief
Chandigarh, March 2
The victims of the devastating earthquake in Gujarat and the innocent Sikhs killed in Jammu and Kashmir were among those who were paid homage in the Punjab Vidhan Sabha today.



Sharp fall in Ranjit Sagar Dam water level
Power generation may be hit for days
Ranjit Sagar Dam, March 2
Even as the water level of the Ranjit Sagar Dam reservoir has declined alarmingly due to scanty rains, the power generation which was stopped on February 24 will be resumed on March 4, a few hours before Prime Minister Atal Behari Vajpayee dedicates the project to the nation.
Punjab page: Dam workers serve ultimatum
Parliament nod to Balco deal
March 2, 2001

IT surcharge goes, cut in PF interest rate
March 1, 2001

No JPC probe into Balco deal
February 28, 2001
Passengers spared, freight hiked
by 3 per cent
February 27, 2001
Quake jolts Central Asia
February 26, 2001
Return Ayodhya land, VHP tells PM
February 25, 2001
Economic outlook gloomy
February 24, 2001
PM warns Lashkar
February 23, 2001
J&K truce extended
February 22, 2001
India lodges protest
February 21, 2001
Pak stalling peace process: President
February 20, 2001