Filthy lucre
This refers to Khushwant Singh's write up "Filthy lucre" (February 13). The experience the writer shared is an example of encounters that we all have at various times in our lives. Filthy lucre has assumed immense proportions today. There is no longer a distinction in the society between money earned honestly and that earned through foul means. This prompts people to acquire money by hook or by crook and breeds corruption, greed and other evils. Money can buy you almost everything, including a good job and even an entry into high society.
With morality and ethics having touched their lowest ebb, one cannot even help suspect one's close relatives and long-time buddies. This makes one lose one's good friends and also damages one's personality. Being on one's guard as far as one's money is concerned makes one behave in a strange way. One remains aloof and is completely oblivious to one's surroundings and this stunts one's development.
B.M. PURI
Solan
Benefits of honey
This refers to Maharaj K. Kaul's article "This sweet is good for health" (February 17). A complex combination of 70 substances, including vitamins, have made honey both a nutritious food and an all-purpose medicine which does not spoil and retains its curative properties even after being stored for a long time. About 1000 years ago the Arab scholar Avicenna wrote "Honey imparts briskness whets the appetite, stimulates digestion, restores memory and quickens the mind."
The glucose contained in honey promotes the dilution of blood vessels, thereby normalising circulation.
It is true that honey helps sick people get rid of their ailments and healthy ones preserve their health and even, as the ancient people said, prolong their youth. Like any remedy, however, it is unsafe in case some diseases and even contraindicated for those suffering from diabetes or a tendency to break into rashes. People in whom even a small amount of it provokes allergy should also rule out treatment with honey.
O.P. Sharma
Faridabad
Deepti Naval
This refers to Khushwant Singh's column "This above all" (February 10). I share noted writer's admiration for film actress Deepti Naval. Her fans treat her like the girl next door. It is heartening to note that her talent has been recognised by promising filmmaker Usman Peerzada from across the border who has cast Deepti in a film being directed by him in Lahore. We hope to see the Indo-Pak film on our screens soon. We also look forward to Deepti mounting an exhibition of her photographs of Lahore in Delhi first later in Lahore itself.
ONKAR CHOPRA
New Delhi
Astrology
"Sensing disasters before they strike" (This above all, February 10) by Khushwant Singh was an interesting piece of writing in which the writer took a dig at astrologers of every hue. Candidly speaking, astrologers, fortune-tellers and soothsayers exploit the ambitions and aspirations of the gullible masses by feeding them on false predictions. Otherwise how come so many marriages, arranged and solemnised after matching horoscopes of the prospective couples, break, sometimes abruptly. Obviously the so-called seers fail to foresee what lies in store for them.
The writer is absolutely right when he says that no astrologer could have predicted the fate of the men, women and children who fell prey to the earthquake that struck Gujarat. The makers of their horoscopes must have forecast a bright future for the hapless victims.
Actually what is to happen, will happen. No power on earth can stop it, except the invisible, omnipresent and omniscient super power that governs this universe. If the astrologers were to predict each and every thing then there would remain no faith in god. In that case what would become of the millions of Indians who are theists?
TARSAM S. BUMRAH
Batala
II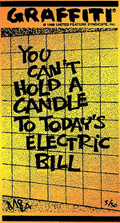 Osho has stated that although astrology is a science which originated and flourished in some of the oldest civilisations known, yet it has lost credibility in today's society. The problems for which we need astrological advice are perhaps outside the realm of the subject. Still astrologers exploit gullible people.
It is basically due to the ignorance of Indians that such people thrive in our country. Many Indians want to live on false hopes and want to escape reality. That's the reason birth charts are found only in our country, so that if anything goes wrong, one can say "Kismat mein nahin tha" (It was not in my destiny).
SOHIT KAROL
Chandigarh