IN PASSING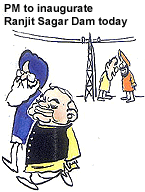 If they really want to generate "power", unite Badal and Tohra!

Ravi no more flows into Pak
Ranjit Sagar Dam, March 3
With the taming of the mighty River Ravi which meanders to the Indo-Pak border, no more of its water flows into Pakistan. With the completion of Ranjit Sagar Dam, Pakistan would no longer be able to wage a 'proxy war' with India by diverting the course of the river.
GND University honours H.S. Wasir, Sachar
Amritsar, March 3
The 27th annual convocation of Guru Nanak Dev University started here with an address by Mr Sukhdev Singh Dhindsa, Union Minister for Chemicals and Fertilisers. Addressing the gathering, the minister said Punjab was facing numerous social, economic and political problems. "In such times it becomes imperative to 'beat' the new challenges with new technology."
Rajouri residents completely shaken
Rajouri, March 3
Anger and anxiety were writ large on the faces of people in this border town following the killing of 14 policemen and four civilians in two separate militancy-related incidents yesterday. The town and its adjoining areas wore a deserted look following a total bandh observed by the people in protest against the killing.
Over 20 cops shot in Rajouri
March 3, 2001
Parliament nod to Balco deal
March 2, 2001
IT surcharge goes, cut in PF interest rate
March 1, 2001
No JPC probe into Balco deal
February 28, 2001
Passengers spared, freight hiked
by 3 per cent
February 27, 2001
Quake jolts Central Asia
February 26, 2001
Return Ayodhya land, VHP tells PM
February 25, 2001
Economic outlook gloomy
February 24, 2001
PM warns Lashkar
February 23, 2001
J&K truce extended
February 22, 2001
India lodges protest
February 21, 2001