Jackfruit Pulao
Ingredients:
500 gm jackfruit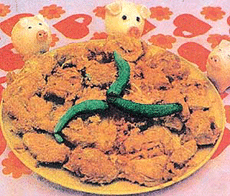 2 cups rice
5-6 cloves garlic
1 tomato
1 stick cinnamon
5 cloves
2-3 black cardamoms
½ tsp cumin seeds
2 pieces javitri (mace)
1 cup water boiled with tea leaves
Salt to taste
1 onion
½ tsp red chilli powder
2 tbsp ghee
Method:
Clean the rice and soak in 3 cups of water for about an hour.
Peel and cut jackfruit and keep aside. Heat 2 tbsp ghee and fry chopped onion and garlic till golden brown. Add chopped tomatoes, chilli powder and salt and fry for some more time. Now add jackfruit pieces and a little water for cooking the jackfruit. When tender remove from fire.
Heat 2 tbsp ghee in another pan and fry onions till light brown in colour. Add whole spices and fry again for 2-3 minutes.
Add soaked rice, fry for a while and add 3 cups rice water and 1 cup tea water. Cook covered till rice is done.
Add cooked jackfruit and mix well. Serve hot garnished with fried onion pieces.
Jackfruit Chicken
Ingredients:
200 gm green jackfruit, D shaped,
Salt and red chillies
Red-orange colour
Onion
Radish
Cream and a sprig of green coriander leaves for decoration.
Oil for frying
For gravy:
3 big tomatoes
2 big onions
3-4 green cashewnuts
2 tbsp ghee
5 gm ginger
3-4 green chillies
1 tbsp curd
2 small cardamoms
1 clove garlic
Method for gravy:
Grind ginger, garlic, onion and tomatoes and fry the paste in ghee. When light golden brown add curd. After sometime, add ground cashewnuts. Finally add some water and boil it for a while.
Method:
Pressure cook whole jackfruit with skin with 1 tsp oil for 20 to 25 minutes. Peel and slice lengthwise and deep fry.
Dip in red orange coloured water. Keep the coloured water aside. Prepare gravy and add this colour to the gravy. Add sliced jackfruit in the gravy. Cook till gravy thickens.
Arrange like bread in a bowl. Decorate with onion and radish slices. Top with cream and green coriander leaves.
Kashmiri Kathal
Ingredients:
500 gm jackfruit
2 big-sized onions
6 cloves garlic
4 Kashmiri chillies
½ tsp garam masala powder
½ tsp chilli power powder
¼ tsp turmeric
½ lime
salt to taste
ghee for frying
Method:
Peel and cut jackfruit into cubes. Chop one onion and use the other one for making a paste with garlic, ginger, chilli powder, garam masala, turmeric, Kashmiri chillies and coriander leaves.
Pressure cook jackfruit pieces with 1½ cup water for about 15 minutes. Draw and keep aside. Shallow fry these pieces till golden brown on all sides.
Heat 1½ tbsp oil and add ground onion masala. Fry till oil surfaces. Add chopped onions and fry for some more time. Add jackfruit pieces, salt and one cup of water and simmer till gravy is thick. Before serving, add some lemon juice.
Jackfruit seed phirni
Ingredients:
200 gm jackfruit seeds
100 gm khoya
2 cup milk
3 tbsp refined oil
1 tsp ground cinnamon
cloves and black cardamom
a pinch of saffron dissolved in 1 tsp hot milk
10 almonds
10 raisins
150 gm sugar
Method:
Clean and boil the seeds till tender. Peel off the hard skin and grind. Mix the ground seeds in milk and beat well. Fry cardamom cloves and cinnamon for some time. Add ground paste and milk mixture. Stir well. Add saffron. Garnish with dry fruit and serve chilled.