IN PASSING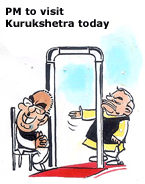 BJP MLAs will have to meet the PM via the CM ...

2 Indian women among 36 killed in Haj stampede
Mina (Saudi Arabia), March 5
Thirtysix Haj pilgrims, including two Indian women, were crushed to death in a stampede during the "Stoning of Satan" ritual today near the holy city of Mecca, state-run Saudi television reported.
Lance Naik was schizophrenic
Injudiciousness cost BSF dear
Ferozepore, March 5
The recent shootout case that took place on February 25, leading to the loss of lives of two BSF personnel, has sparked off a controversy and raised many eyebrows. The BSF authorities are under cloud as questions are being raised about whether the shootout could have been averted.
Resolve inter-state rows, PM tells CMs
March 5, 2001
PM for hike in farm sector
power tariff
March 4, 2001
Over 20 cops shot in Rajouri
March 3, 2001
Parliament nod to Balco deal
March 2, 2001
IT surcharge goes, cut in PF interest rate
March 1, 2001
No JPC probe into Balco deal
February 28, 2001
Passengers spared, freight hiked
by 3 per cent
February 27, 2001
Quake jolts Central Asia
February 26, 2001
Return Ayodhya land, VHP tells PM
February 25, 2001
Economic outlook gloomy
February 24, 2001