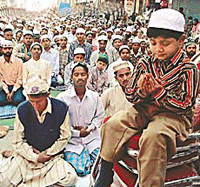 Ludhiana is fast assuming a cosmopolitan character, with people from almost all parts of the country settling here. Outsiders have contributed a lot in the development of Ludhiana. They include, Rajasthanis, Biharis, Gujaratis, Tamils, Keralalites, Bengalis and Kashmiris. Most Muslim migrants are artisans or hosiery workers. At every Id, thousands of them gather in Jama Masjid here to offer prayers, symbolising unity in diversity. The participation of Hindus and Sikhs in Id adds more charm to the festivities. Long live this spirit.
Holi Brij style
Holi means gulal, pichkaris and getting thrown into troughs of coloured water. Some people use grease in place of colours, which is bad for the skin and hard to wash off. Holi will be celebrated in the Brij style at a resort here. Couples will play Holi with flower petals and not colours. Thandai — a typical Indian Holi drink will also be served, besides the usual liquor.
Theatre culture
Jaya Bachchan stopped in the middle of a recent performance of the play, Ma Retire Hoti Hai, here as constant talks on the mobile phones in the front row was distracting her. In anger, she said, "I will not perform if you behave like this." Ringing of moblie phones had also made Kadar Khan interrupt the performance of Taash Ke Patte here. Members of the audience did not bother to switch off their mobile phones even after requests from producers before the play began. It shows that there is a lack of theatre culture here.
There were many who strolled into the theatre much after the performance had begun. Ramesh Talwar, director of the play, Ma Retire Hoti Hai, and Jaya Bachchan said, the stage here lacked depth, due to which, the curtain could not be drawn. One hopes that Ludhianvis will be better behaved during the next performance.
Godman's gifts
Business houses and politicians offer gifts to journalists to seek favourable coverage and some journalists oblige them as well. A Godman with lakhs of followers who is also seen on television, also tried to do this here recently. He sent wrist watches along with packets of religious books to journalists of almost all newspapers here.
As selling of God to people has become a big business, too, Godman, must have thought of investing in good relations with the Press for expanding his business.
Budget blues
The Budget presented by Mr Yashwant Sinha created confusion among industrialists here. This time, they were not sure whether to criticise the Budget or praise it. When approached for his reactions on the Budget, a leading manufacturer of bicycle parts here, said, "I do not know whether to criticise it or appreciate it. Wait for a day while I consult some journalist friends in Chandigarh. They will tell me whether the Budget is in my favour or not."
Jingle bells
Decorative bells are in vogue and most of the gift shops in the city are selling these. Doorbells are available in a variety of colours, shapes and material. There are carved Buddhas on some, while some others have little hearts on top to lure youngsters. Earlier, people used to import these bells from Singapore and Thailand, but not anymore. There are musical bells with tunes ranging from Jingle Bells to nursery rhymes to even latest Hindi songs.
Doctor's gesture
The Holi celebrations should be simple this year as mark of mourning for those who have lost their lives in the Gujarat earthquake. Ludhianvis are observing restraint on their own. Dr Naresh Trehan, a surgeon who was here to deliver a lecture, donated Rs 50,000 that were presented to him by the organisers, for the Gujarat relief fund. Ankur Bansal, a Class VI student of Panchkula whose father is serving here, collected over Rs 500 from friends and relatives for the Gujarat relief fund.
— Sentinel