Mehndi as fashion accessory
Geetu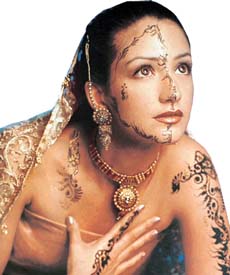 A famous singer with mehndi all over her body created quite a stir at last year's MTV awards function, bearing testimony to the fact that this art has moulded itself so perfectly according to the needs of changing times to become chic and fashionable rather than being drab .
Mehndi has broken free of the traditional wedding, Teej or Karva Chauth days and is being applied for a Valentine's Day bash , a formal party or even an evening at a disco. In its new avatar, mehndi has been elevated to the status of body art and a fashion accessory for the fashion-conscious youngsters.
In recent popular culture, mehndi has enjoyed a renewal. Western musicians and Hollywood personalities have adopted and altered the tradition so that mehndi as a temporary, pain-free body ornamentation alternative to tattooing is now the hottest new trend among women and men. As the trend grows in popularity, so grows the list of personalities that have been seen sporting mehndi patterns. Actress Demi Moore was among the first celebrities to be seen wearing mehndi. From Madonna and Naomi Campbell to Drew Barrymore the list of famous names smitten with mehndi magic is ever increasing.
The art of decorating hands and feet with henna has been in vogue for the past 5,000 years and even though the designs fade the art has withstood the impact of change.
Now it is not just hands and feet that are adorned, but also arms , neck, back and navel.
Rekha Sharma, a city-based mehndi artist, who has been in this field for the past 18 years and has seen this traditional art form change into its new-age avatar says, ''for the past 2-3 years the number of teenaged college -going clients has increased substantially. They prefer glitter and coloured mehndi for formal parties and are willing to experiment with new things. They also do not hesitate to pay for these designs.'' Rekha says that she used to charge Rs 80 for bridal mehndi when she started 18 years ago, but now it can cost anywhere between Rs 2,500 to 4,000 depending on the intricacy of the designs.
the delicate and intricate Rajasthani mehndi designs have been a traditional favourite but it is the bold and thicker strokes of Arabic mehndi designs which are in consonance with the aspirations of the bold Y2K generation. Designs like 'chaupad', 'chaukhana', 'lahriya , 'ghevar'and delicate floral designs are part of traditional Rajasthani mehndi and peacock and 'ambi'designs are more popular in Gujarati style. Traditional Mughlai or Khujaraho designs, marriage scenes of baraat, doli and even images of Lord Ganesha are very popular in the Arabic form.
Three main traditions can be recognised aside from the modern use of henna as a trendy temporary tattoo. Generally Arabic (Middle-Eastern) mehndi features large, floral patterns on hands and feet , while Indian mehndi uses fine lines, lacy, floral patterns . Apart from these there is the African mehndi art which involves large and bold geometrically-patterned angles. African mehndi patterns usually use black henna whereas Asian and Arabic henna is often reddish brown.
Also in vogue is shaded mehndi which plays with contrasts of black, red and maroon. This has not only caught the fancy of several brides who prefer it for the D-day, but is also a favourite with party lovers. The black coloured outlining is done with a chemical dye and later on the design is filled up with regular henna. According to Rekha, addition of clove oil to the dark shade reduces the chance of allergy to a great extent in this form.
Glitter mehndi is another variation quite popular with young generation these days. In this, the traditional designs are highlighted with the use of gold, silver or copper coloured glitters which give a shimmering effect. This goes very well with formal dresses.
Tiny crystal granules are also used to embellish henna designs giving a rich effect.
Mehndi tattoos are infact quite popular among college-going girls. Sanjana, a first year student at a local college, and her friends had mehndi tattoos on back and arms for a hostel party. These are trendy and something different, says Sanjana and adds that the se go well with western outfits. Sneha, however prefers to experiment with new styles for that different look.''At a wedding I would like to wear a different style design from the bride'',she says. Earlier there were no options but things have changed in the past 2-3 years