IN PASSING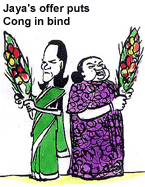 Is it really Womenís Day greetings?

Rebels keep Dhumal on tenterhooks
Shimla, March 7
Seven BJP rebels are keeping Chief Minister P. K. Dhumal on tenterhooks by continuing to remain out of the Vidhan Sabha during this crucial Budget Session. The rebels today remained present in the lobby of the Assembly, but did not enter the House.
CEC meeting on Assembly poll
New Delhi, March 7
With the Assembly elections likely to be held in the last week of April in West Bengal, Kerala, Assam, Tamil Nadu and Pondicherry, the Chief Election Commissioner, Mr M.S. Gill, has called a meeting of top officials of these states on March 12 here to review the law and order situation and poll preparations.



Ph.D must for principals, not for VCs!
Hisar, March 7
Under a new dispensation the Haryana Government has ruled that if you do not hold a Ph.D degree you cannot be appointed Principal of a lowly-aided private college in Haryana but you can become Vice-Chancellor or Registrar of one of the four universities in the state without such a degree.
PM warns of water shortage
March 7, 2001
Another attack on Army camp
March 6, 2001
Resolve inter-state rows, PM tells CMs
March 5, 2001
PM for hike in farm sector
power tariff
March 4, 2001
Over 20 cops shot in Rajouri
March 3, 2001
Parliament nod to Balco deal
March 2, 2001
IT surcharge goes, cut in PF interest rate
March 1, 2001
No JPC probe into Balco deal
February 28, 2001
Passengers spared, freight hiked
by 3 per cent
February 27, 2001
Quake jolts Central Asia
February 26, 2001