IN PASSING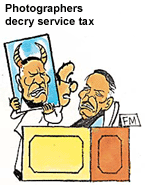 Sir, this is your portrait clicked by protesting photographers!

Balco rocks LS, RS again
New Delhi, March 8
The Balco issue rocked Parliament again today as the Government came in for sharp criticism from the Opposition in both the Houses for moving the Supreme Court on a sensitive issue of Centre-State relations without taking the Chhattisgarh state into confidence.
Ultras strike again, kill 2 cops
Srinagar, March 8
Barely 24 hours after blast at the Border Security Force camp in Nowhatta, militants struck again in Srinagar, killing two policemen and injuring six paramilitary jawans today.
Kin of slain Babbar Khalsa chief shift abroad
Dassuwal (Amritsar), March 8
The very name of Sukhdev Singh Babbar, chief of Babbar Khalsa International, would strike terror in the minds of the people and the police in the eighties.


A portion of the abandoned house of slain Babbar Khalsa chief Sukhdev Singh Babbar.
— Photo Rajiv Sharma
Govt favours talks with various
J&K groups
March 8, 2001
PM warns of water shortage
March 7, 2001
Another attack on Army camp
March 6, 2001
Resolve inter-state rows, PM tells CMs
March 5, 2001
PM for hike in farm sector
power tariff
March 4, 2001
Over 20 cops shot in Rajouri
March 3, 2001
Parliament nod to Balco deal
March 2, 2001
IT surcharge goes, cut in PF interest rate
March 1, 2001
No JPC probe into Balco deal
February 28, 2001
Passengers spared, freight hiked
by 3 per cent
February 27, 2001
Quake jolts Central Asia
February 26, 2001