IN PASSING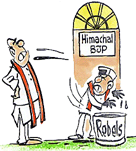 Not saffron, we are playing Holi with black colour!
TMC reaches pact with AIADMK
Chennai, March 9
The TMC-Congress combine today reached an agreement on an alliance with the All-India Anna DMK-led Secular Front for the coming Assembly elections.
Stock markets crash
New Delhi, March 9
In a repeat of "Black Friday" syndrome, major stock markets today crashed following a payment crisis in the Calcutta Stock Exchange forcing corrective steps that brought shares of bluechip companies to the year's lowest level.
Taliban 'dynamite' Buddha statues
Kabul, March 9
Afghanistan's Opposition today said the ruling Taliban had destroyed the two ancient Bamiyan Buddha statues in Central Afghanistan.
"Chori Chori" opens amid protests
New Delhi, March 9
The controversial film "Chori Chori Chupke Chupke", allegedly financed by the underworld, opened today at 14 cinemas in the national capital region, amid protests leading to the arrest of some activists outside a theatre in Connaught Place.
TMC, Cong set to team up with AIADMK
March 9, 2001
Govt favours talks with various
J&K groups
March 8, 2001
PM warns of water shortage
March 7, 2001
Another attack on Army camp
March 6, 2001
Resolve inter-state rows, PM tells CMs
March 5, 2001
PM for hike in farm sector
power tariff
March 4, 2001
Over 20 cops shot in Rajouri
March 3, 2001
Parliament nod to Balco deal
March 2, 2001
IT surcharge goes, cut in PF interest rate
March 1, 2001
No JPC probe into Balco deal
February 28, 2001