IN PASSING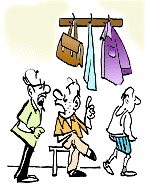 You want to meet mantriji. Hang your clothes there and go inside!
by Sandeep Joshi
Former Prime Ministers to hold protest rally today
New Delhi, March 14
Former Prime Ministers V.P. Singh and H.D. Deve Gowda, Samajwadi Party chief Mulayam Singh Yadav, along with activists of the Left Parties, will participate in a protest demonstration here tomorrow to demand the resignation of the Vajpayee government in the wake of the defence deal scam.
'Tehelka' in both Houses of Parliament
New Delhi, March 14
Dogged by revelations of shady defence deals, Parliament was adjourned for the day today following vociferous demands by the entire Opposition seeking the resignation of the Vajpayee government.
Two Haryana officers figure in transcripts
Chandigarh, March 14
Any major scandal breaking in Delhi somehow finds a connection with Haryana, which surrounds the Capital from three sides. Be it match-fixing in cricket or the recent "tehelka".


Why did Badal skip NDA meeting?
Chandigarh, March 14
The Punjab Chief Minister, Mr Parkash Singh Badal, who skipped an emergency meeting of the National Democratic Alliance held this afternoon at the residence of the Prime Minister, said that no one exposed by tehelka. com., should be shielded. He said that an inquiry should be ordered in all cases in which solid evidence was available.
Website exposes govt's shady defence deals
March 14, 2001
Motion of thanks defeated in RS
March 13, 2001
Annan's no to UN resolution on Kashmir
March 12, 2001
Rush, gusto missing at Hola Mohalla
March 10, 2001
TMC, Cong set to team up with AIADMK
March 9, 2001
Govt favours talks with various
J&K groups
March 8, 2001
PM warns of water shortage
March 7, 2001
Another attack on Army camp
March 6, 2001
Resolve inter-state rows, PM tells CMs
March 5, 2001
PM for hike in farm sector
power tariff
March 4, 2001