IN PASSING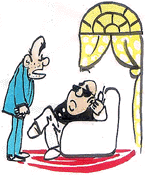 Boss, no one is willing to give us one crore because our rival has agreed to do the work for ten thousand only.

by Sandeep Joshi
Indian supporters celebrate with burning papers after India beat Australia in the second Test in Kolkata on Thursday.
— Reuters photo
Basu heads People's Front


New Delhi, March 15
The erstwhile United Front was resurrected as the People's Front today with the political climate hotting up following the withdrawal of support by the Trinamool Congress to the Vajpayee government, which is shrouded in the 'arms deal' video tape infamy.



Punjab House condemns 1984 'massacre'
Chandigarh, March 15
For the first time, the Punjab Vidhan Sabha today unanimously passed a resolution condemning the 1984 "massacre" of Sikhs in the wake of the assassination of the then Prime Minister, Indira Gandhi.
Govt ready for probe: Vajpayee
March 15, 2001
Website exposes govt's shady defence deals
March 14, 2001
Motion of thanks defeated in RS
March 13, 2001
Annan's no to UN resolution on Kashmir
March 12, 2001
Rush, gusto missing at Hola Mohalla
March 10, 2001
TMC, Cong set to team up with AIADMK
March 9, 2001
Govt favours talks with various
J&K groups
March 8, 2001
PM warns of water shortage
March 7, 2001
Another attack on Army camp
March 6, 2001