IN PASSING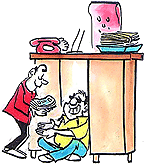 They are probing corruption in 'high places' only!

by Sandeep Joshi
Case against Sonia's PS
Owns disproportionate assets, says CBI
New Delhi, March 21
The CBI has registered a case against Mr Vincent George, Personal Secretary to Congress President Sonia Gandhi, for possessing assets worth crores which were disproportionate to his known sources of income.
NLFT guerrillas gun down 11
Agartala, March 21
NLFT guerrillas mowed down at least 11 persons, including four BSF jawans, and injured 10 in an ambush at Marachara in North Tripura today.
5 IAF men die in copter crash
Bangalore, March 21
Five IAF personnel were killed when a MI-8 IAF helicopter crashed near Chikkajala in Bangalore rural district this evening.
Uneasy calm in Amritsar
Pig flesh thrown inside religious place
Amritsar, March 21
An uneasy calm prevailed in the city today after a 'holy book' was burnt and pig flesh thrown inside a religious place. The Akhil Bharatiya Hindu Suraksha Samithi has claimed responsibility for the incident that occurred at the local Hall Bazar.
Parliament passes vote-on-account
March 21, 2001
Cong announces nationwide stir
March 20, 2001
Sonia's battle cry against NDA govt
March 19, 2001
Cong ready for coalition
March 18, 2001
PM orders judicial probe into expose
March 17, 2001
Resignations of George, Mamata, Panja accepted
March 16, 2001
Govt ready for probe: Vajpayee
March 15, 2001
Website exposes govt's shady defence deals
March 14, 2001
Motion of thanks defeated in RS
March 13, 2001