IN PASSING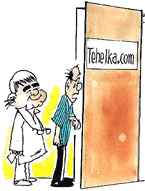 Sir, Mr Laloo Prasad Yadav wants to thank you for saving the Bihar Government!

by Sandeep Joshi
Gujarat Speaker to go on fast
Cong seeks recall of pro-RSS Governor
Gandhinagar, March 23
The bedlam in the Gujarat Assembly today took a turn for the worse with Speaker Dhirubhai Shah announcing a 72-hour fast and the Congress demanding the shifting of Governor Sunder Singh Bhandari.
CBT for lower PF interest rate cut
New Delhi, March 23
The Provident Fund Trustees today recommended a cut of 0.75 per cent in interest rates at 10.25 per cent on the statutory savings by employees against 1.5 per cent lowering of rates on most administered rates proposed by Finance Minister Yashwant Sinha in Union Budget.
Student killed; curfew in Poonch
Protests against sacrilege rock valley
Baramula, March 23
A student was killed when the security forces opened fire to disperse demonstrators at the cement bridge near here today, who were protesting against the burning of the Quran in Punjab. The demonstrators were taking out a procession in the town raising slogans against the Prime Minister and the Shiv Sena.
After RSS, SJM targets PMO
March 23, 2001
Pak troops strengthen positions along LoC
March 22, 2001
Parliament passes vote-on-account
March 21, 2001
Cong announces nationwide stir
March 20, 2001
Sonia's battle cry against NDA govt
March 19, 2001
Cong ready for coalition
March 18, 2001
PM orders judicial probe into expose
March 17, 2001
Resignations of George, Mamata, Panja accepted
March 16, 2001
Govt ready for probe: Vajpayee
March 15, 2001
Website exposes govt's shady defence deals
March 14, 2001