IN PASSING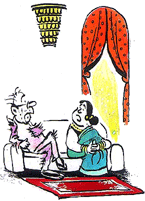 In this dress, nobody will blame you for having assets disproportionate to your known sources of income!

by Sandeep Joshi
Jagdeo re-elected Guyana President
Georgetown, March 24
Ethnic Indian President of Guyana Bharat Jagdeo has been re-elected as head of the former British colony, but his rival from the People's National Congress Party contested the election in the Supreme Court.
Migrants transform Mand
Mand (Amritsar), March 24
The hostile terrain, which was considered a heaven for terrorists and bootleggers till the eighties, has been converted into vegetable-rich area, thanks to the migrant labourers of Uttar Pradesh.
'God, let my son die before me'
22 NP (Raisingh Nagar), March 24
While all parents pray for the long and successful life of their children, a distraught mother of this village does the opposite, she pleads with the Almighty to take away her son before her. The saga of suffering of this 70-year-old widow is an unending one. Call it the cruel twist of fate. She gave birth to three sons, all of whom were diagnosed with myopathy, a rare and incurable congenital defect of the fibre nerves.
Wheat support price hiked by Rs 30
March 24, 2001
After RSS, SJM targets PMO
March 23, 2001
Pak troops strengthen positions along LoC
March 22, 2001
Parliament passes vote-on-account
March 21, 2001
Cong announces nationwide stir
March 20, 2001
Sonia's battle cry against NDA govt
March 19, 2001
Cong ready for coalition
March 18, 2001
PM orders judicial probe into expose
March 17, 2001
Resignations of George, Mamata, Panja accepted
March 16, 2001
Govt ready for probe: Vajpayee
March 15, 2001
Website exposes govt's shady defence deals
March 14, 2001