Monday, March 26, 2001
Article
Satyam certified by BVQI
By Peeyush Agnihotri
SATYAM Computer Services Ltd. has been found to be in accordance with the requirements of the new ISO 9001, 2000 International Standards, under the Tick IT scheme. It has become the first organisation in the world assessed by the BVQI (Bureau Veritas Quality International).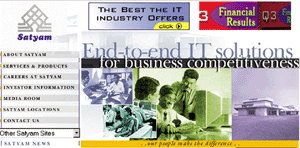 "It is particularly satisfying, as this achievement is the global first. This is remarkable, firstly because it was achieved within a month from the standards being released, and secondly because it covered all Satyam's offices across India," Prabhu Sinha, quality chief of the organisation says.
It may be recalled that Satyam was one of the first 10 companies in the world to have been assessed at SEI CMM Level 5 in 1999. The company has around 9500 IT professionals who operate out of its state-of-the-art software development centers located in India, the USA, Japan, Singapore and the UK.