IN PASSING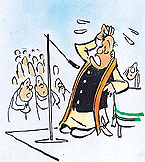 I am convinced he is an honest politician. What about you?

by Sandeep Joshi
India clocks 1.02 billion
New Delhi, March 26
India has touched a population of over 1.02 billion as on March 1 this year, according to new census figures released today.
'Sub-teachers' in border schools
Staff absenteeism alarming, says minister
Amritsar, March 26
For the first time, a Cabinet Minister, Dr Rattan Singh, who hails from the border belt, has publicly admitted that government teachers, hardly visit their places of posting and have appointed 'sub-teachers' in their place.


Seven Principals reverted as lecturers
New promotion policy makes them ineligible
Bathinda, March 26
As many as seven officiating principals of various government colleges have come in for a rude shock as they have been reverted as lecturers by the state education authorities via a new promotion policy. Though in legal terms the accordance of the status of "current duty charge principal" to a lecturer is not considered a promotion, the education authorities seem to have humiliated them, making their juniors as principals.
Make party funding transparent: PM
March 26, 2001
BJP President calls Cong fascist
March 25, 2001
Wheat support price hiked by Rs 30
March 24, 2001
After RSS, SJM targets PMO
March 23, 2001
Pak troops strengthen positions along LoC
March 22, 2001
Parliament passes vote-on-account
March 21, 2001
Cong announces nationwide stir
March 20, 2001
Sonia's battle cry against NDA govt
March 19, 2001
Cong ready for coalition
March 18, 2001
PM orders judicial probe into expose
March 17, 2001