Can you cope with your kids?
Mary Boote Have you got what it takes to face the trials and tribulations of being a parent? How well can you handle toddler tears and those trying teenage years? Answer these questions to find out.
1. Your young baby finds it difficult to settle to sleep. Do you: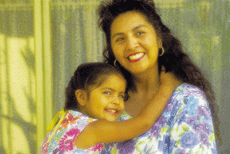 a. try to establish a reassuring routine?
b. give up and let the baby cry for hours?
c. keep the baby up until it falls asleep from exhaustion?
2. Your toddler refuses to eat. Do you:
a. Spend hours forcing it to eat as much as possible?
b. try to accept it as a phase without getting too worried?
c. seek professional help?
3. Your toddler throws a tantrum at the supermarket. Do you:
a. drag it out of the shop in shame?
b. Shout at the child in front of everyone?
c. carry on quietly shopping until the fuss subsides?
4. At school your son is being bullied. Do you:
a. have a quiet word with the class teacher?
b. storm into the school demanding to see the head teacher?
c. talk to the child at home to build his confidence?
5. Your child is deliberately rude to one of his/her grandparents. Do you:
a. quietly but firmly make him/her apologise?
b. ignore the incident because you are embarrassed?
c. make a scene which makes everyone feel worse?
6.Your young teenage son starts wearing clothes you hate. Do you:
a. try to see it from his point of view although you think he looks dreadful?
b. throw the offending items away?
c. bribe him to wear suitable clothes on important occasions?
7. Your teenage daughter has an undesirable boyfriend. Do you:
a. ban him from the house?
b. say nothing in the hope that it will soon be over?
c. treat him as one of the family and then regret it?
8. Your teenage son starts staying out until the early hours. Do you:
a. have constant rows?
b. lock the front door?
c. try to negotiate more reasonable behaviour?
9. Your teenage son refuses to work for his important examinations. Do you:
a. try to give him as much support as possible?
b. bribe him with large sums of money?
c. allow it to become a major source of conflict?
10. Your teenage daughter wants to go on a holiday with a mixed group. Do you:
a. refuse to let her go?
b. have long discussions about the pros and cons?
c. let her go, but arrange for the group to be supervised?
Now calculate your score
1. a 10 b0 c5
2. a0 b10 c5
3. a5 b0 c10
4. a10 b0 c5
5. a10 b5 c0
6. a10 b5 c0
7. a0 b10 c5
8. a5 b0 c10
9. a10 b5 c0
10. a0 b10 c5
66-100: You and your partner seem to have a well-balanced attitude towards your children, and the demands that they make on you. You can see when it is necessary to compromise and when you need to stand firm. You may have spent a lot of time reading about child psychology, but it is more likely you just have the knack of handling difficult situations.
35-65: Like many parents, you probably find that you often feel confused about how to tackle problems that your children throw at you. The most important principle is that you should agree with your partner and present a united front. Also you should try to be as consistent as possible, whilst keeping an open mind.
0-34: Your attitude towards your children and their welfare seems to swing from an absolutely rigid and unbending one to one that is wildly permissive. Your children are probably very confused, and therefore feel they have to challenge you on every issue. Perhaps you should try talking to other parents or even professionals to arrive at a more consistent and realistic approach. — AF