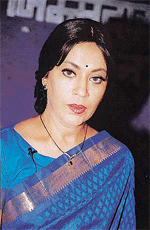 Priya was busy doing another programme: she does three at a time. I was ushered into the waiting-room where sat the other three participants and some of their supporters. I could sense the tense atmosphere. A muscular, middle-age man, evidently a Muslim, was denouncing attempts to malign Muslims for what the Taliban had done in Afghanistan. His harangue was obviously aimed at Sanjay Nirupam, the Shiv Sainik MP, and his supporters. Attempts to contradict him were met by louder ranting: "These people think they were the only ones to win India's freedom. We Muslims did as much as they to throw the British out." When he cooled down a little. I provoked him further "This country is no one's baap ki jaidaad (paternal property). Yeh hamaara vatan hai (this is our homeland) — of Hindus, Muslims, Christians and Sikhs alike." There was another round of everyone shouting at everyone else. Peace was restored when Vijay Tendulkar came in to tell us they were ready for our programme. A minute later, Priya came in looking more ravishing than ever before. She had shed some weight and regained her school-girl complexion and figure. She is as pretty as the prettiest of our film stars.
We trooped into the studio. I could sense everyone was ready for the battle to begin. The four panelists took their seats on the dais. The audience seemed equally divided between Muslims and Shiv Sainiks. One Buddhist monk in brown robes sat quietly in a corner seat in the last row. A lady sat at the other end in the front row. Priya started off with Rahul Bodhi. As one would have expected, he was gentle and very soft-spoken. He expressed his sorrow over what had been done at Bamiyan. The next to be called was Azam, President of the Mumbai Muslim League. In trying to explain that Indian Muslims should not be maligned for what the Taliban had done in Afghanistan, he went out of the way to extol the role of Indian Muslims in the freedom struggle.
This was too much for the Sanjay Nirupam to stomach. A slanging match began: both accusing the other of trying to break up the country. I found it as amusing to hear a Muslim Leaguer subscribing to the two-nation theory as a Shiv Sainik proud of his party's role in knocking down a mosque waxing eloquent at keeping the country united. What they lacked in logic they made up in lung-power. The audience joined in loudly clapping for their spokesmen by yelling at each other. Two of them nearly came to blows. Priya had to send for the security guard to bounce one of them off. Peace was restored.
The came my turn. I denounced both the idol-breakers and mosque destroyers. Mosque-breaking was still on the agenda of some members of the Sangh Parivar; Surendra Jain talks of 2000 mosques to be razed to the ground. What kind of Jain he is, I don't know! Ahimsa is the cardinal principle of the Jain faith. And as for the bearded Giriraj Kishore of the VHP, he talks the language of Mullah Omar of the Taliban in the Hindu dialect. I had my share of tongue-lashing from Nirupam. I ended with my favourite quotation of a Punjabi Sufi poet:
Masjid ddhaa dey, mandir ddhaa dey
Ddhaa dey jo kucchh dhhanda
Ik kisey da dil, naa ddhaanvin
Rab dilaan vich rahenda
(Break the mosque, break the temple,
Break whatever you can break;
But never break anyone's heart
Because God dwells therein.)
Lust for shikar
My lust for bird and animal blood lasted almost 30 years. With my air gun, I shot pigeons, doves and even sparrows. With my 12-bore gun, I went on to kill partridges, water-fowl and wild-pig. I joined shikar parties which slew hundreds of geese, teal and mallard. I was overcome by remorse. I haven't taken the life of bird or animal for over 50 years. On the contrary, I became a passionate preserver of wild life and took a leading role in persuading many states to impose a blanket ban on shikar to honour the memory of Jain Mahavira.
The memory of my shikar days was revived by the visit of Shuja-ul-Islam who lives in California. Shuja's father Badr-ul-Islam was a close friend of my father. He lived in a double-storeyed house on Curzon road, now Kasturba Gandhi Marg, next to the present-day office of The Hindustan Times. He was a great shikari and had a live-in-shikari, Munia, who was in charge of the bandobast. I often accompanied them on their shoots around Delhi. Badr never missed anything; I never got anything: for me, they were enjoyable outings. One summer day he took me out fishing to Okhla. We spent a couple of hours casting our baited hooks into the river. We did not get a bite and decided to call it a day. "Khaali haath jaana theek nahin" (to go empty-handed is not right), exclaimed Munia. He jumped into the Yamuna Canal: Sluice-gates had been closed; so the water was stagnant. With his feet, he felt fish sleeping in the mud and dived down. In a few minutes he brought up three large carps with his bare hands. How can we forget such an adventure?
With Partition, Badr and his family migrated to Pakistan. His Curzon Road house was allotted to my uncle Ujjal Singh, in lieu of the house he had lost in Lahore. Whenever I called upon my uncle, I felt Badr's presence everywhere. He visited India a few times to go tiger-hunting with his friend, the Maharaja of Vizianagram. Badr bagged 50 tigers and Vizianagram over 300. Badr also had a Gir or two to his credit.
Shikar ran in the family's blood. Shuja shot a few tigers and lions (in African slots), bears in India and grizzlies in Canada. He lectures on wildlife hunting all over the world. When he came to see me with his publisher Bhupinder Chaudhry I had no difficulty in recognising him: he could have been Badr-ul-Islam, whom I had known half-a-century ago. He gave me Hunting Dangerous Game With the Maharajas (Himalaya Books). Ikeep it by my bedside. Although I am now of the view that killing wild animals is uncivilised, I feel good to be lost in dense jungles; I only wish he had been armed with a camera, instead of a gun.
Population control
Kabiruddin Ahmed, a member of the Central Legislative Assembly, made a laughing-stock of himself. The occasion was the acrimonious debate on the Arya Marriage Validation Bill, meant to legalise certain types of inter-community marriages. Communal passions were running high with trading of charges and counter-charges of conversion between the two major communities. Kabiruddin Ahmed's blood pressure was up and he could not contain himself. "And now, sir, I know your tactics, how you (meaning the Hindus) want to multiply your population — not by the front door but by the back door". The House roared, almost loud enough to raise the dome but Kabiruddin Ahmed's face was the picture of innocence, as if he did not know what the laughter was about.
(Contributed by Judson K. Cornelus, Hyderabad)