Kieslowski confirmed his status as a major contemporary film-maker with Decalogue (1988), an ambitious series of ten hour-long films made for Polish television. Applying the Ten Commandments to modern Polish life, he examined the moral dilemmas in the lives of ordinary Warsaw citizens. The series was co-scripted by Krzysztof Piesiewicz, a lawyer, who worked with Kieslowski on all his major films.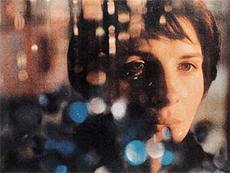 The Double Life of Veronique (1991) was his first major international film, made with French collaboration. This elegantly filmed but enigmatic movie concerns two identical young women : One lives in Krakow and the other in Paris. Although unaware of each other's existence, they influence each others' lives. Its elliptical narrative notwithstanding, the film was appreciated for its poetic visuals.
His last work, and according to some critics his greatest, was a trilogy series called Three Colours: Blue (1993), White (1994) and Red (1994), named after the colours of the French flag and symbolising "Liberty," "Equality" and "Fraternity," respectively. The central character of Blue is Julie (played by French actress Juliette Binoche), who loses her husband, a famous composer, and her young daughter in a car crash at the beginning. As a reaction to this tragedy, she tries to start afresh by cutting herself off from her past, from the world, virtually from life itself. However, she slowly realises the illusory nature of her new-found freedom and is drawn by the irresistible power of life, love and music. ( Her transformation is heralded by the unforgettable image of an ice cube dissolving in a cup of coffee ).
"We wanted to show what liberty means to us today, who already possess liberty, "said Kieslowski about the film, "therefore, in Blue, liberty is not treated in a social or political way . . . it means here individual liberty, the liberty of life itself." Blue is an emotionally overpowering film full of stunning imagery and soul-stirring classical music.
Possessing a good eye (and ear) for detail, Kieslowski imbues almost every image, every sound with significance. He is able to elicit a memorable performance from Binoche, who superbly conveys the trauma of a woman coming to terms with irreparable loss.
Kieslowski followed this intense, introspective drama with White, a black comedy. The film opens in a French courtroom where Karol Karol, a Polish hairdresser is divorced by his French wife Dominique because he has failed to consummate their marriage. Avenging his failure to live up to her expectations, she reduces him to a down-and-out wanted by the police. A chance encounter with a fellow Pole leads him back to Warsaw, where making the most of the neo-capitalist scenario, he scripts a rags-to-riches story with the intention of winning her back because, in spite of all she has done to him, he still loves her.
Having become a very rich man, he is able to buy a corpse for faking his own death. The ploy works. Dominique comes to Poland to attend his "funeral" and cries over his "grave," thus revealing her love for him. A passionate reunion ensues, immediately followed by a cruel separation. In the last scene, a teary-eyed Karol watches Dominique behind bars, paying the price for his trick.
The crazy plot, the furious pace and the tongue-in-cheek treatment make things quite entertaining. However, at the end of it all, White leaves one dissatisfied; it is a bit too flippant. No wonder it is regarded as the weakest film in the trilogy.
Red, the final part of the trilogy is about a lonely model, living in Geneva, whose only link with her boyfriend and her brother (who are in England and France, respectively) is through the telephone. She encounters a cynical retired judge leading a ghost-like existence, who spends his time listening in to phone conversations of his neighbours using a special equipment. As a relationship develops between the two, the traumatic past of the judge is suggested through the side-story of a young lawyer who is betrayed by his girlfriend.
Kieslowski portrays an alienated and cold world, connected (?) by telephone wires, not by heartstrings. However, he eschews cynicism and shows compassion towards his characters.
"Chance governs all things; necessity, which is far from having the same purity, comes only later, " said Spanish film-maker Luis Bunuel. In Kieslowski's films, the mysterious, indifferent forces of chance, coincidence and fate play a crucial role in the lives of his characters. They separate as well as unite people, wreck as well as save lives with equal ease. Gradually, Kieslowski's characters realise the futility of trying to control things.
Julie loses her husband and daughter in a car mishap. Much later, she fortuitously comes to know about his mistress, giving the tale a significant turn. In White, a despondent fellow Pole asks Karol to kill him as he lacks the courage to do it himself. Karol shoots him but, it is only a blank. The man is saved; he gets a new lease of life and starts a success story. In Red, Valentine meets the judge purely by chance after she runs over his pet dog. In Red, Valentine (as well as the important characters of Blue and White) miraculously survive a shipwreck. The trilogy begins with a car mishap and ends with a shipwreck. In both cases, there are survivors. Even though death is inevitable, life 8goes on, the director seems to say.
Like Antonioni, Kieslowski uses colour in the trilogy to express the emotional states of his characters, though not as effectively. For him, blue is the colour of swimming pools and crystal mobiles; white represents weddings, alabaster busts, snow and orgasms; red is the colour of a huge advertising banner showing Valentine in profile and that of the towels used to wrap her and the other survivors of the shipwreck. Kieslowski's use of the three colours, though visually appealing, defies conventional interpretations; at times it is even obscure.
The trilogy is undoubtedly one of the most significant works to come from Europe in the 1990s. Though Kieslowski employs several stylistic devices, he never loses sight of his themes : the need for relationships in an increasingly depersonalised world, the significance of living and loving. It is the fundamentally human struggle of his characters trying to overcome their personal tragedies, and their ability to survive it all, that moves the viewer and leaves a lasting impact.