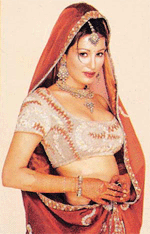 The Mega Wedding Show in Mumbai which lasted three days, was created for such people who enjoy the hype and awe-inspiring comments which a wedding creates. It reflected the demand and supply theory in the wedding goods market, which is one of the biggest and fastest-growing business sectors. It brought together wedding wear designers, make-up artists and manufacturers, tent and venue designers like Salim Asgarally Weddings mehendi artists, bindi designers, jewellers, perfumers, florists, hairstylists, floor-pattern designers, candle makers and of course lifestyle shops which offer gifts and home decor items for weddings — all of whom displayed their exorbitant and beautiful goods or services to an ever-hungry, statusconscious marriage market. The show opened with a catwalk performance of ensembles by Krishna Mehta, Sujata Kothari, Shobha Somani, Anita Dongre, Aparna Suneja and Shamlu Dudeja. The fabulous jewellery from Chintamanis (who won the World Gold Council Award this year for the sexy choli made with 22-carat gold). Bela Rastogi, Ropa Vohra, Surana and Thewa added an incredible touch of glitter and glamour to the show. The finale, in which Mrs World 2001 and supermodel Aditi Govitrikar and her doctor-husband Mufazzal Lakdawala modelled Krishna Mehta outfits together for the first time, was truly eye-catching for the media. All suppliers had their stalls at the show and all of them participated in the demos, lectures and slide shows planned for the event.
"Today, the wedding season in India is bigger for marketing and shopping than Divali or any festival season," says Priti Kumar, the show's young director, "Most affluent families start zeroing in on jewellery, gifts, food, venue design, clothes and even stationery a year before the big day. Each function, pre or post wedding, is orchestrated by a specialist and the more the attention to detail, the more are the designers involved." Flower arrangements include rings and ornaments crafted from petals and ferns; mehndi is used to copy ornaments on not only hands and feet, but also arms, necklines and around the waist. Clothes from a battery of niche designers are chosen for each occasion. The venues are colour co-ordinated and the food is a veritable feast, with items being planned party by party till the mega feast of the wedding day and the reception reach a gastronomic crescendo.
Today, people want to create memorable weddings and their incessant demands have created a battery of suppliers who can create Balinese tents, Nawabi palaces, royal pavilions, Burmese, Thai or Indonesian architecture, Western ambience, Far Eastern scenarios or garden vistas at the drop of a bank cheque for a large amount. Caterers can produce food which is unbelievably varied and presented with incredible beauty. Jewellers go into a tizzy designing unique, customised pieces for the trousseau and of course others supply invitations, gifts, music, entertainment, illuminations, video, photography and a thousand other magical requirements which make a glittering marriage the event of the season and the talk of the town, at least for some months.
Priti Kumar is excited with the Mega Wedding Show's stupendous success and popularity — and particularly the enthusiastic response from overseas Indians who phoned or e-mailed in large numbers — that in September 2001, she hopes to duplicate the show in London and the USA, and possibly even the Emirates. "Each show will be bigger and better than the one before," she enthuses, "This event showcases all wedding products under one roof. It gives all the to-be-brides and grooms and their families a chance to see all the latest trends together. It's a one-stop shop for all their needs. The Indian wedding industry is growing at the phenomenal rate of 25 per cent each year and the to-be-weds are constantly looking for new concepts and ideas to make their marriage better or more exclusive than the last year's extravaganzas. They need to meet suppliers and check out the newest trends in face-to-face encounters. Therefore, this kind of show is a great opportunity for buyers as well as suppliers. It offers huge business opportunities to artists and designers. Weddings offer employment and work to lakhs of skilled but poor artisans and no one minds spending on exclusive ideas if they have money to spend."
Yet another new and interesting trend in recent high society weddings in India is the choice of exotic venues. During 2000-2001, many rich families took their brides and bridegrooms with a huge group of Baaratis to Goa for the nuptials; others booked entire resorts in Nepal, Sri Lanka or Mauritius. Yet others chartered planes to London or Dubai. All in all, though the divorce rate in India is reported to reach a scary 30 per cent in the year 2001, the organising and marketing of all events concerned with marriages are a business worth millions of rupees or even dollars today. And the business-savvy merchants and designers in Indian cities, who wait in the wings for money making opportunities, do not miss even one trick, come rain or shine!