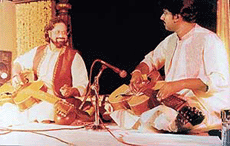 Yet, both are classical in their rendition and do not stray away from the basic parameters of raga-based music. "Salil is young and as such, he has been able to infuse fresh blood in the interpretation of certain scales, metres and moods associated with traditional compositions," Panditji points out.
As a late starter at the age of 15, Salil has found it tough growing out of his father's shadow. There have been moments of insecurity, frustration and even rethinking about whether he had chosen the right career, before he could come to share the stage with his father.
"It isn't easy being the son of a celebrity father," complains the boy. "It becomes doubly hard when he is your guru, but spends more time with other disciples than me, flooding them with taans, material and lessons... During those formative years, I could not get more than 20 minutes from him."
Papa Bhatt corroborates this when he says he has been "more kind" to his disciples than his sons as he considers it his dharma. "Besides, Salil had an attitude problem which, I thought, he had to get over with," he smiles.
The "torture feeling" only helped Salil in his resolve to prove himself to his father and he found that opportunity in Birmingham. "My father was then touring the U.S. when I approached him to play in the Birmingham concert," he narrates.
"I thought this was a great moment when I could be away from his deadly eyes and make a start for myself. But as the day drew closer, I became nervous and felt like a fool about getting into the mess. I even urged my tabla player to put up a solo performance. But the organisers were insistent..."
Fortunately for Salil and the organisers, the audience loved his performance and the evening ended with a resounding applause. "But that experience taught me one thing," he says. "You always need the blessings of your guru, more so, when you are performing solo."
Before Salil took to his father's music, he had the option of making a career in the armed forces or earning an overseas management degree. He even took up sports for a while and once, tried himself out teaching in a municipality school.
"There was never any pressure to take up the mohan veena," he recalls. "When I started, it was entirely my own decision. And I discovered I did not have to struggle as much as some of the other disciples did. And since my father did not pay much attention on me, I was left to develop my own style."
If he has any regrets though, it is of not being able to be a musician like Pandit Vishwa Mohan Bhatt. As the boy points out, he started out to follow his father's footsteps, but found himself charting his own course with the knowledge and skills he had learnt.
"No one knows what one can become in life," retorts the proud father. "Whichever field Salil would have chosen, I would have wanted to excel. Like any father anywhere, I always want to see my sons at the top of the world."
— Maharaja Features