Ousted CBEC head, son held, remanded
Verma hospitalised
Tribune News Service and UNI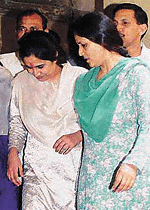 Bhawana Pandey (left) comes out of the Tis Hazari court in New Delhi on Monday. — PTI photo
New Delhi, April 2
Ousted chairman of the Central Board of Excise and Customs (CBEC) B. P. Verma, who was remanded into five days' CBI custody by a Delhi court today, was later admitted to Safdarjung Hospital with breathing problems.
Hospital sources said Mr Verma, who has been admitted in the emergency ward, was suffering from obstructive sleep apnoea which leads to difficulty in breathing during sleep. In fact, his heart has been affected due to less supply of blood, common in such patients. As he was also suffering from asthma, his lungs were not functioning properly, they said.
Mr Verma, would be given treatment and kept under observation for at least three to four days only after which a decision about discharging him could be made, the sources said.
Earlier in the day, Verma, his son Siddarth and broker, Bhavna Pandey, were produced before Metropolitan Magistrate Paramjit Singh in a corruption case and the court remanded them into CBI custody till April 7. The three were arrested late last night by CBI.
Verma, who has been put on "compulsory wait" by the government following the CBI case against him, has been accused by the investigating agency of having shown undue favours to A K Enterprises in evading duties on imports and also for getting duty draw back on exports.
Verma's son, Siddarth has been accused of picking up large sums of money on behalf of his father from one "middleman" known as Vijay Pratap.
In the past two days, CBI sleuths conducted simultaneous raids in 15 places in Delhi and Chennai, including the premises of Verma's Officer-on-Special Duty, Sandeep Shrivastav and the school run by Verma's wife in Delhi, four business establishments run by Siddarth and the office of A. K. Enterprises in Chennai.
During raids, Verma was virtually put on house arrest and not allowed to move out of his House No. 4-C, Hudco Palace, Andrews Gunj Extension in South Delhi. The raiding party had recovered documents showing investments in the UTI and LIC worth Rs 2.4 million, cash of Rs 1,40,000 and deposits in bank accounts worth Rs 7,60,000, sources said.
Besides, the CBI also found documents showing huge investment in properties. Even as the investigations are continuing, agency sources said the arrest of Verma followed questioning of his son Siddarth Verma and business partner Rohit Jain.
Moreover, the sources said that the former CBEC Chairman did not cooperate with CBI during the raid.
Siddarth and Rohit Jain own five companies, including Jubilee Enterprises and Jubilee Medicare, they said, adding that the questioning of Jain would continue.
Soon after the CBI sleuths raided Verma's premises, the Centre had put him, an Indian Revenue Service Official, on "compulsory wait" and appointed Sukumar Shankar, a member of the CBEC, as the new Chairman.
The entire operation of the CBI was based on a complaint that Verma had been helping a Chennai-based firm through a "middleman" and seeking undue favours from his juniors to get goods cleared on their arrival in Delhi. It was alleged that Verma had received a "huge bribe" from representatives of a company through his son in a five-star hotel in Delhi.
This is the first time that an officer of Verma's rank has been raided by the CBI in recent times. Verma, who was earlier Director-General of the Economic Intelligence unit of Excise and Customs, was made Chairman amidst protests from a member of CBEC for alleged supersession.
Meanwhile, highly placed sources said that the CBI is in possession of an audio tape, containing Verma's conversation with a foreigner woman.
The conversation between the two is believed to have been recorded in December, 2000, and is said to be "explosive".