II
On the international ramp models are sometimes seen wearing dresses made entirely of pearls.
The grace and magnificence of the pearls is ageless and untouched by changing fashion trends. For centuries people have been wearing pearls for that understated, sophisticated and highly cultured look. They endow the wearer with a touch of class, a touch of quiet regality.
Pearls possess great versatility, too. As a single string, or double or triple unadorned string, they exude great sophistication suitable for casual as well as formal wear. Put a pendant in the middle or multiple pendants or clasps in the pearl strings and they acquire an ethnic flavour. Use the tiny pearls for studding intricately-designed jewellery and the jewellery gets a traditional, festive hue.
One can buy pearls in any range to suit one's pocket and all of them are a pleasure to own and wear. But if one wishes to test weather the pearls are real or fake, here is a simple test. Rub them against your teeth. Real pearls are slightly rough in texture because their surface has micro pores on it. But fake pearls will be absolutely smooth and plain.
And for taking proper care of your pearls, first of all you have to avoid putting scratches upon them. For this purpose, one should wrap them up separately in cotton or a soft piece of cloth when not in use. Besides this, they must not come into direct contact with acidic substances, like perfume and hairspray etc. This little bit of care will keep their fascinating sheen unspoiled for years together.
AMRIT PAL TIWANA
Kalka
Changing morals
This refers to Khushwant Singh's column: "This above all" (March 17). As far as changing morals are concerned, I agree with the author that the world has moved at a faster pace than anyone could have imagined. It is really shocking to see that most of our newspapers/periodicals publish pictures of scantily-dressed models and starlets. The reasons as explained by the author is that if they do not do so, their circulation will drop. It is sad to note that all our fiction writers put in dollops of sex in their books to ensure sales. I feel that creative writers should never write for the market. They must write with integrity.
ONKAR CHOPRA
New Delhi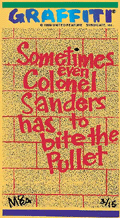 Price of being upright
This refers to "Paying the price for being upright?" by Khushwant Singh (March 24). I agree that Justice Ajit Bharihoke's transfer at this crucial juncture smacks of a scandal which the media failed to expose. The reason being put forward — ovrestay at the post of CBI judge for two years — appears too minor an excuse when compared to the importance of the job that he had been assigned and was also executing in an exceptional way. I fail to understand why we are guided by unsavoury conventions even when there is a rare opportunity to ensure that the guilty are punished.
B.M. PURI
Solan