Aerosmith - Just Push Play
(Sony Music) **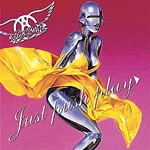 Working with co-producers and song collaborators Mark Frederiksen and Mark Hudson, Aerosmith have forged an album that gracefully fuses 70's hard-rock with contemporary gloss. Just Push Play, the Boston quintet's thirteenth studio album and the followup to 1997's Nive Lives brings back the band's signature riffs and hardened vocals. But anyways who wants to listen to the same ol' stuff they've been doing for the last decade: sliding from rock towards pop. Thanks to Steven Tyler and Joe Perry who still have the ability to create some magic. The first single Jaded is a sweet-tinged track. Drop Dead Gorgeous finds Joe Perry with the mic and offers loads of surprises. The hip-hop scratching on the title track and the heavily loaded doo-dops of Outta Your Head work nicely with Tyler's rappy vocal pattern. The psychedelic Under My Skin and slow-tempo Sunshine are worth listening to. The only track that lives up to the Aerosmith standards is Beyond Beautiful.
Caution: Don't expect any fireworks.
Lionel Richie - Renaissance
(Universal) ****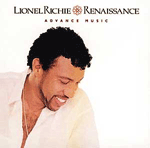 Cher did it – now it's Lionel's turn. On Renaissance, Lionel Richie proves that even after more than 30 years in the business, you never really lose what you've got. Last year Lionel appeared from nowhere to open the wildly successful tour for Tina Turner. Lionel Richie has certainly taken no chances on his latest offering, hooking up with notable producer-lyricists, including Mark Taylor, Rodney Jerkins (Mariah Carey, Brandy, Whitney Houston), Walter Afanasieff and Brian Rawling (Cher, Enrique Iglesias). Angel's thumping beats have the capability to throw Cher's Believe off the charts, for which he collaborated with dance music producers Rawling and Taylor. Lionel takes on Latin music with the likes of Cinderella, Dance The Night Away and Here Is My Heart. He is at his romantic best on the intoxicatingly soulful ballad Don't You Ever Go Away. With its up-tempo production and groovy vocal patterns, Wasted Time is a melodic testament of Richie's vocal ability. For those wanting a little Hello-era, look no further than the well-crafted ballads I Forgot, Tender Heart, Piece Of My Heart, How Long and It May Be The Water. An album enough to understand why Lionel Richie was once labelled the king of adult contemporary music.
Jennifer Lopez - J.Lo
(Sony Music) *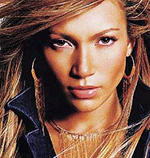 Jennifer Lopez has entered the singing-acting-dancing zone of the bonafide superstar Will Smith and has developed a reputation to match her talents. J.Lo, the follow-up to her multiplatinum 1999 debut On The 6, makes little attempt to hit it bigger, employing an army of co-producers and writers (including Puff Daddy) to assemble a slick, 15-track package. With steamy lyrics, melodies that make nursery rhymes sound sophisticated and production straight from the Wal-Mart school of music, her music renames R&B as MR&LB — More Rhythm and Less Blues. Love Don't Cost A
Thing offers some unavoidable hooks. Her Puerto Rico background comes to the fore on a handful of Spanish numbers, notably Carino, which samples Cuban percussionist Mongo Santamaria's Sogrito to an impressive effect. Some tracks look back to the 1980s- particularly Michael Jackson-influenced I'm Real and the funky Play. The Madonna-soundalike Ain't I Funny isn't up to the mark. The album constantly reminds you of Jennifer's vocal shortcomings and gives you a feel that probably Gloria Estefan would have handled this better!
Album of the month
Radiohead - Kid A
(Virgin Records)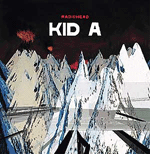 This fourth album from British alt-band needs no introduction. It has already proved itself to be a winner at this year's Grammys. Kid A is a drastic step — an eerie, futuristic soundscape- concept album — that abandons the band's traditional rock-softcraft arrangement and instrumentation. The album is supposedly about a human clone trapped in a bleak futuristic world, and as comprehensible as the last 20 minutes of 2001: A Space Odyssey. The album begins brilliantly, with a rolling electric piano groove that strives upwards, alongside Thom Yorke's voice — chopped and shaped by Johnny Greenwood — circling the listener's head like a halo of midges on Everything In Its Right Place. The title track follows with childlike bell motifs that picks the way through vibrating drums and nursery-room vibe. The National Anthem offers nasty bass riffs and stop-start drums anchoring synthesiser notes. A flatulent sax solo joins in before the whole thing goes off the rails into a free-jazz outblast. How To Disappear Completely is unarguably the most recognisable Radiohead-esque track on the record, with melodramatic string arrangement backing York's plaintive voice. Optimistic and In Limbo are the focus tracks here. Stuttering beats and omnipresent electric piano set against random phrases together form The Morning Bell. Motion Picture Soundtrack comes as a stunning act. It showcases a collage of rising strings and escalating voises which is as beautiful as it sounds strange. An album likely to make history.
— Saurabh & Gaurav

The Grrr…eat Music Zone Quiz
1.What was Co Co Lee's first American album called?
2.On the Hotter Than Hell album cover, one of the KISS members' faces was super-imposed. Name the member.
3.Before starting his solo career with the debut album Loosegroove, Nash Kato was a part of which band?
4.What is the last album by mark Knopfler called?
5.What was the original language title of Kraftwerk's late seventies hit track Showroom Dummies ?
6.Which famous actress is featured in Lenny Kravitz's American Woman video?
7.What was the title of John Lennon's first published book?
8.Stevie Wonder plays harmonica in which Eurythmics song?
9.On Lucy Pearl's first album, name the song that features Snoop Dogg and Q-Tip?
10.What was the debut album by Travis called?
Answers
1. Just No Other Way
2. Ace Frehley
3. Urge Overkill
4. Sailing To Philadelphia
5. Schaufensterpuppen
6. Heather Graham
7. In His Own Write
8. There Must Be An Angel
9. You
10. All I Wanna Do Is Rock
Top 10 singles
1. Nobody Wants To Be Lonely Ricky Martin
2. I Lay My Love On You Westlife é
3. Jaded Aerosmith çè
4. Love Don't Cost A Thing Jennifer Lopez ê
5. Inner Smile Texas l
6. It Wasn't Me Shaggy é
7. The Call Backstreet Boys ê
8. Stan Eminem l
9. All For You Janet Jackson é
10. Rollin' Limp Bizkit ê
é Climbing up ê Falling down çè Non-mover l New entry