However, behind the stoic remark of the statistically- most-successful regular captain ever in the game lay the deep dejection of being crushed by a team which till recently appeared to be all set to provide the Aussies a virtual walk-over. After all, the Mumbai Test had ended in just three days and, in Kolkata, India had been forced to follow on with a lead of 274 runs. No one, least of all Waugh, would have imagined in the wildest of dreams that India would win the match with a thumping margin.
So when Glenn McGrath's wicket fell and the Eden Gardens exploded with celebration, the Aussies could barely contain their disappointment. The mood in the Australian camp was best summed up by McGrath, the last man out, "I went back to the hotel room and pulled out a picture of Jane (wife) and James (one-year-old son) and looked at them. It put a smile back on my face."
Indeed, it was no ordinary loss. The Australians had been winning Test after Test in a record- breaking spree and no team in the world had been able to take on their challenge successfully. Sixteen Test wins in a row is an awesome feat for any cricketing side and the Australians appeared to be on an unstoppable roll. On landing in India, it was natural for Steve Waugh to publicly wish that he would like to round off his career with victories here and Mumbai provided enough indication that his desire was near fulfillment. Among the Indian supporters, too, a deep sense of deja vu had taken root after the thrashing during the first outing itself.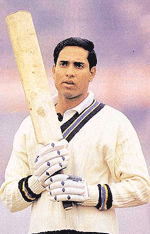 The victory at Kolkata, therefore, was no ordinary victory; it was a virtual miracle that is going to be remembered for many years to come. Perhaps no team in the world has come from behind in such an aggressive fashion not only to cover the deficit of the first innings but to post a healthy total and then go on to dismiss the opposing side with many, many runs to spare. It showed also what good cricket is all about -- grit and determination, application and innovation and forgetting the limitations and doing your very best. And, it was India, no one else, which taught the world this all-important lesson.
How singularly significant the victory at Kolkata was not only for India but for cricketing nations around the world can be gauged from the fact that in far-away Caribbeans, where the South Africans were playing the West Indies, the drink of choice (rum and soda) was quickly renamed Laxman and toasts after toasts were raised in his honour and in honour of the historic win. The West Indian manager Ricky Skerrit said,"I have never seen a smile as big as the one on Brian Lara's face when he came down for breakfast to be told that India has won. Everyone felt the same." The grin on everyone's face, except, of course, the Australians, remained plastered till the last Test in Chennai when India struck again and handed a series defeat to the kangaroos after a long, long time.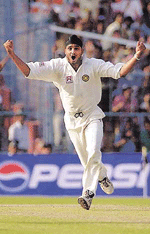 But perhaps the biggest reason to rejoice is that adversity which had dogged Indian cricket in the recent past because of the matchfixing allegations and low team morale has thrown up exciting new possibilities for the game. In Harbhajan Singh and VVS Laxman, in Zaheer Khan and Badani, in Sehwag and Dighe one sees the hope that combined with trusted warhorses like Sachin Tendulkar, Sourav Ganguly, Rahul Dravid, Srinath and Kumble, India can once again produce a team which is a world beater. In fact, apart from the youngsters who showed their
mettle, it was the seniors who proved their weight in gold. Dravid, in Kolkata and elsewhere, batted with such fine technique and temperament that he appeared to be virtually invincible. Tendulkar, on his part, combined aggression and caution to notch up quite a few scores and many of his shots made one wonder whether batting against the mighty Aussies could be so easy. Though Sourav did not perform well with the bat, except at the last one dayer, he can always be relied upon to lead from the front next time around.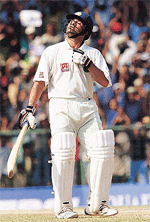 Laxman's mammoth innings of 281 at Kolkata will perhaps go down in cricket history as one of the classiest ever played by a young man faced with such heavy odds. His drives and lofted shots, his cuts and square drives were exquisite to say the least. And all this when his team was down and out and the fear of personal failure must have loomed large before him. It was an incredible feat and those who witnessed it must have felt heavens blessed.
It is very rarely, specially in cricket, that one comes across personal and team feats of outstanding nature at the same time. But both in Kolkata and Chennai, one witnessed at least a couple of them in tandem. Harbhajan and Laxman not only covered themselves with glory by cornering records, but worked with the team to propel it towards victory. Tendulkar became the first batsman in the world to score 10,000 runs in one- day cricket and his contribution with both the ball and the bat made a big difference to the home team's prospects. More than Ganguly, it was Dravid, the vice captain, who not only out-thought the Australians but also provided moral support to the youngsters playing in the middle. Both Laxman and Sehwag have gone on record to stress the role Dravid bhaiya played in keeping them going. Said Adam Gilchrist after the Kolkata Test, "Our first loss was a result of a world class come- from- behind win by the Indian side. It has taken one of the most memorable displays of character from a cricket side to deny us victory number seventeen.... All credit to Sourav and his men; most which can be directed the way of VVS Laxman and Rahul Dravid. To produce such an exceptional partnership at a time when not only your team, but your entire country is depending on it, was one of the greatest achievements that I have ever witnessed."
Such high praise from a member of the opposing side should naturally give cricket fans the hope that like the phoenix Indian cricket has risen from the ashes and reinvented itself with grit and determination and a new confidence in its abilities. With Zaheer Khan, Srinath can now share the new ball, Kumble can now find adequate support from the off spinner Harbhajan Singh. Similarly, Das and Laxman can take some burden off the seniors by staying put and scoring a few runs. The youngsters are the find of the season with as many waiting in the wings to take on their responsibilities out in the middle. Young Yuvraj Singh is one such name.
What the Australian tour of India has done this summer is to bring back hope and put the youngsters once again in the spotlight. Suddenly, thanks to superlative displays by them, the question marks over ability have completely vanished. Harbhajan, Laxman, Das, Sehwag, to name a few, were certainly considered promising but never hot or exciting. It is, therefore, their grit and the determination to prove themselves beyond a shadow of doubt that has earned India the core around which the rest of the team can be built. They have shown that hard work is the only key to success. Harbhajan, perhaps, exemplifies this more than any one else.