Shilpa Shetty reinvents herself!
Asha Singh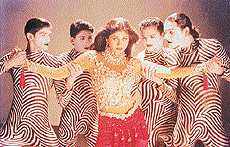 Barely two years ago, Shilpa Shetty's career hit rock bottom for the first time since she made her debut with 'Baazigar' in 1993: she did not have a single film on hand. It was then that she wanted to quit for good and perhaps, settle down with her beau, Akshay Kumar.
The relationship did not work. But 'Dhadkan', a film that took four years in the making, hit the screen and changed everything. From a "special appearance heroine" doing senseless dance items, Shilpa was back in the reckoning, giving the likes of Karisma Kapoor and Aishwarya Rai a run for their money.
"Just as I had been written off, 'Dhadkan' came along and gave me a fresh lease of life," narrate the actress. "Now I can prove myself with my performance, rather than my dance numbers. It was such a pleasant change sitting in a scene in 'Dhadkan' and watching Mahima (Chaudhary) dance."
Shilpa has just replaced Karisma in Anil Kapoor and Satish Kaushik's 'Badhai Ho Badhai' and has bagged the female lead in Sunny Deol's 'Indian'. There's another love story with Sunny and Sunil Shetty and yet a fourth, 'Junoon' with Chandrachur Singh as her co-star.
Then there's Salman Khan recommending her to his producers after she wowed him with a power-packed performance in an Andhiyaman film they are doing together. And of course, there's Dharmesh Darshan wanting to repeat her after 'Dhadkan'.
"For once, I am getting the kind of roles I had dreamed of," she declares. "It may not be the kind of films, say Nutan or Nargis could get to play, but well, I can see myself getting there now. After seven-and-half years, I am getting somewhere!"
An "intuitive" actress, as she describes herself, Shilpa's only training came from watching old classics like 'Mughal-e-Azam', 'Padosan', 'Mother India' and 'Mrs Parkington' repeatedly as she grew up. For her role models, she has (apart from Nargis and Nutan) Sridevi, Rekha and Julia Roberts.
But ask her about her "dream role" and she'd say 'Chaalbaaz' "Sridevi was superb while playing the twin sisters, Anju and Manju I like her as Chandni in 'Chandni' also, but in 'Chaalbaaz', she had a double-dynamic to a role. I doubt if any of our existing actresses would be able to pull off such a class act."
And what about her male favourites?
"Amitabh Bachchan without doubt," she replies. "He has such class and panache that it is unthinkable for someone like me to share the same frame with him. There are others as well, but I would rather not name anybody lest I miss someone out and they feel hurt."
On a personal level though, she counts as her friends Aamir Khan ("he can be very passionate about what he believes in"), Sunil Shetty ("he is a successful businessman also and manages to balance two careers with amazing acumen and intelligence") and Salman ("we're old friends since 'Auzaar' and 'Dus').
Much as her name is linked with several men — from stockbroker Ketan Parikh to tennis ace Mahesh Bhupathi — Shilpa insists that with the recent turnaround in her career, marriage has become a "distant dream". Nevertheless, she has drawn a wish list for the man she would share her life with.
"My husband does not have to be good looking, but he has to have a good personality. He should be a self-made man, financially independent and not insecure about me. There must be a lot of understanding from my side and trust from his..."
"He should respect me and be proud of what I am doing," she continues. "I don't mind if he is sober because I am quite a prankster myself and I know I'd make life fun for both of use. But the other qualities have to be there. If even one is missing, I know I'd never be happy with him."
— MF