True, nature had not endowed the Maharaja with bewitching countenance. The scars of small pox were clearly visible on his brown face; his thick lips, snub nose and short stature reminded one of Socrates except for the fact that the latter had both his eyes intact while the Maharaja had lost one in his childhood. Yet his face bore the signs of royalty and emitted a radiance which impressed one and all. His somewhat apparent ugliness was compensated by his courage and bravery, and his qualities of the head and the heart. When a jester asked him where he was when the Almighty freely distributed beauty, he replied that he had gone in search of a kingdom.
Even though illiterate, Maharaja Ranjit Singh was a man of profound knowledge and understanding. He was inquisitive about everything ranging from politics and methods of warfare to the customs and manners of Europeans; from guns, forts, wines and horses to hell, paradise, God and the devil.
As a lasting tribute to the greatness of the Maharaja as a soldier, statesman and administrator, it must be acknowledged that out of chaos and confusion that prevailed before his rise to power, he not only created a powerful state of Punjab but also consolidated it with the new spirit of nascent Punjabi nationalism.
K.M. VASHISHT
Mansa
Paradise reclaimed
This refers to the article "Paradise reclaimed" by Reeta Sharma (March 31). The Army deserves to be congratulated for the success of Operation Sahyog launched by Vajra Corps in August 1999 to restore Harike's old glory.
Now that the Army has removed the menace of water hyacinth from an ares of 7.5 sq km, the state authorities must ensure that the Harike Bird Sanctuary becomes one of the best in the world. Industrial houses of the state and NRIs who hail from Punjab must come forward to preserve the Harike wetland.
ONKAR CHOPRA
New Delhi
Fashion trends
This is with reference to the article "Are you a slave to fashion trends?" by Sumona Roy (April 7,).
True, it is hundred times better to adopt the style that suits your personality, your pocket and the occasion for which you are dressing, rather than following the ever-fluctuating trends blindly and consequently, looking out of tune, out of focus and out of gear, too. It is no use following all the latest trends indiscriminately. You should dress up in a way that gives you a feeling of harmony, makes you feel self-confident and comfortable. It certainly makes more sense to take only the selective characteristics of whatever is in vogue and to adapt it according to whatever suits you the most.
Moreover, those in teens can go to extremes and still look cute, while those past their teens and in their thirties and forties and so on have to decide what looks smart as well as gorgeous on them.
The same holds true of colours. One colour might make one person look vibrant and glowing, while the same might make another look sallow, faded and withered.
One must wisely choose hairstyles, type of jewellery and other embellishments, the latest trends notwithstanding.
AMRIT PAL TIWANA
Kalka
Live and let live
Apropos of R.C. Sharma's article "Live and let live" (March 31), the writer has rightly observed in the concluding para "forgiveness is the best form of revenge. Forgive others; they are also human beings. Forgiveness forsters mutual trust...".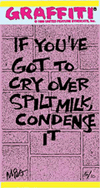 Forgiveness plays an important role in a person's life. Sometimes we forgive and sometimes we ask for forgiveness. In both cases, forgiveness is the kernel of all human relations.
Forgiveness is a decision. It is not a feeling. A decision to forgive is the first step. Difficult to attain, forgiveness demands poise, patience, self-control, fortitude and sympathetic understanding towards others.
To sum up, "Forgiveness from others is charity, from God grace, and from oneself wisdom. Forgiveness is showing mercy when the injury has been deliberate".
O.P. SHARMA
Faridabad
II
It is ironic that while we are keen to know about the things happening around us, we hardly know what is going on in our own minds. Once we have aroused our consciousness through introspection, a virtuous life will naturally come to us.
SAROJANI NAUTIYAL
Ambala