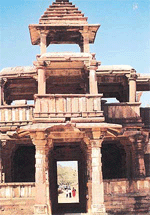 The flattened, granite passage of rocks, over which water flows during the monsoon, is not very wide and only after the water-fall becomes a great gully-mahanal, from which Menal is obviously derived.
One enters through a triple-storey wall-gate (resembling a Buddhist vihar, as we see in the Panch Mahal of Fatehpur Sikri) fixed in a conspicuously high fort-like wall that surrounds the complex. As a big gate-edifice, it seems to have a conceptual similarity to the gopuram of the south.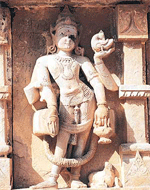 Though the main Shiv shrine is built in sand-stone, brick-work is visible wherever the surface of the tower covering of the smaller temples (perhaps even older) has peeled off. Before the main temple of Mahanala is a Nandi enclosure, solidly built, but barely sufficient to accommodate the bull. Some of the four-armed sculptures that are on the entrance are unusual and seem to be the associates of Bhairav. One of them carries a kamandal in one hand while supporting a bird in another open, uplifted hand. A scantily-dressed mother gives her waist an extra swing so as to securely seat her baby. The diminutive hero, riding a great mystic horse-like creature, is a motif. Compared to its superb rendering at the Kalyan Mandap of the Vitthal-Swami temple at Hampi, it is crude here.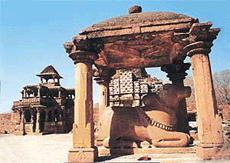 The temple has a conventional ground plan—with five graduated projections dictating pillar positions. Strings of mini-shrines on the tower are bulkier as compared to the finer ones at Bijolian.
One can see the free-standing, toran door-frames for festivities like Gangaur. The conical tendency of the finial of Central Indian lineage is a reminder that the temples can be studied fruitfully as an illustration—how different schools can produce one balanced structure.