Live and let live
This is with reference to the article "Live and let live" by R.C. Sharma (March 31) in which the writer has beautifully enumerated the ways in which we can make the lives of our fellow human beings comfortable and happy.
True, one of the very important things to remember is that we must avoid sitting in on judgement over others. None of us is perfect. Human beings by their very definition are a mixture of good qualities and shortcomings. So why not look at the plus points and ignore the weaknesses rather than doing the opposite. The former attitude brings happiness while the latter is a harbinger of heartburn and misery. As it is, it is of paramount importance to love our fellow human beings. It is certainly much better to adopt a kind and understanding attitude rather than that of self-righteousness.
AMRIT PAL TIWANA
Kalka
Annandale
Apropos of Roshni Johar's article "Annandale Britishers favourite haunt," (April 7), apart from being the original venue of the prestigious Durand Cup, Annandale was also the venue of the plenary session of Congress held in the early seventies and was temporarily called Kamagata Maru Nagar and has for long been the venue of the main Dasehra festival and sports events.
RK SHARMA
Kinnaur
Tracts of Kinnaur
This is with reference to "Explore the inviting tracts of Kinnaur" by A.S. Prashar (April 14). I was shocked to see the caption of the photograph accompanying the article read 'A view of Keylong'. The photograph actually shows Kalpa (Kinnaur) and in the backdrop is the Kinner-Kailash peak.
PANKAJ SHARMA
Shimla
Letting the nation down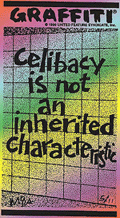 This refers to Reeta Sharma's "Not living up to the nation's expectations" (April 14). In the wake of Tehelka tapes, ordering of an inquiry by the PM in the face of direct evidence is frustrating. Past experience indicates that a majority of such inquiries are only a legal stamp on illegal escape routes in such situations. PM would have risen in the eyes of the people if he had resigned instead of indirectly defending his defence minister who tried to dismiss the whole affair as a conspiracy by the opposition.
No doubt, the image of Indian defence services has taken a beating but that does not give anyone a licence to make sweeping statements against the entire community of Indian defence services. In every profession/service, there are some black sheep but that does not mean that one should paint the entire service in black colours.
ONKAR CHOPRA
New Delhi