Kidney transplant: hope for better quality of life
Dr Baldev Singh Aulakh
Organ transplantation has travelled a long way to achieve the present status with very good results owing to the availability of high-tech surgical management and immunosuppressive drugs. The selection of the patient for kidney transplant is a very difficult job but it should be offered to every patient with ESRD if he or she is able to live for more than six months of independent or supervised life of reasonable quality.
Transplantation should be avoided if the patient is having refractory, cardiac or respiratory failure or any of the diseases mentioned below:
Widespread cancer
Progressive liver disease
Bleeding disorder
Severe urinary tract abnormality
AIDS
Severe mental retardation
Psychological problems (sychosis, alcoholism drug addiction)
Who should undergo kidney transplant?
The age range within which renal transplantation is being performed continues to broaden and the lower end now extends down to the first year of life. In young adults, survival is much better with a transplant than with dialysis. A reasonable policy seems to be free access up to the age of 60 years, greater selection from 60 to 70 years and a limited role of transplantation beyond 70 years. Well-controlled diabetics and heart-patients are also getting transplants without much risk but they should be carefully evaluated for the functioning of their hearts and lungs, the status of vessels, the gastrointestinal system and the urinary system.
The selection of the kidney donor:
With the availability of effective immuno-suppressive drugs, kidney transplant has achieved a big success so as to offer one-year survival of transplant patients in more than 90% of the cases. So far in India, most of the donors have been live ones. Anybody between the age of 18 and 65 years with no medical illness having two normal kidneys can donate one kidney without any harm to his or her body, as one kidney is sufficient for life-long work.
Even children and old persons can donate kidneys provided they are medically fit. Each donor is thoroughly evaluated through blood, urine and radiological investigations.
A live donor can be related to the patient — mother, father, brother, sister, son or daughter. If there is an unrelated donor, he or she should be emotionally attached to the patient — wife, husband or friend. The other important source of kidney is a brain-dead patient (cadaver donor).
In developed countries like the USA and the UK, 80 to 90% transplants are from cadaver donors, whereas in developing countries like India the majority of cases are from live donors. India has the dubious distinction of having probably the largest number of unrelated donors. The main reason behind this is the shortage of donors and the absence of the law, which would enable the doctors to take out the kidneys from brain-dead patients and utilise these for the needy patients. Also for this programme to be successful, social organisations, educational institution and the media have to take the responsibility of creating awareness so that the public accepts cadaveric donation and society gets benefited. After all, man is a social being and his well-being demands a social duty.


Kidney failure is treatable now!
See Health & Fitness, April 25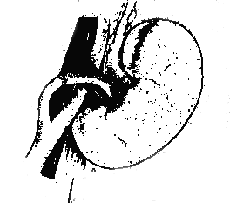 The final step of the technique
The surgical technique:
After the removal of the donor kidney, it is placed in the left or the right side of the lower part of the abdomen.
What happens to the native kidneys of the patients?
Normally, the original kidneys of the patient remain as such and these are removed only when they are a source of frequent urinary infection, very large size due to some disease leading to difficulty in placing the transplant kidney or the patient having very high blood pressure.
Life after the transplant:
Many kidney transplant patients report an immediate feeling of "rebirth" following a successful renal transplant; such a feeling is linked with a perceived "promise" of extended and enhanced quality of life. The quality of life after a successful kidney transplant is much better than life with haemodialysis in terms of psychological and physical well-being. When compared to dialysis, kidney transplantation has greater rehabilitation potential for the patient with end-stage kidney disease; indeed, a successful transplantation is often viewed by the patient as the gateway to "personal liberation" and to the restoration of "control over one's life and one's self".
Care after the transplant
Kidney transplant is being performed successfully in India. Because of immunological disparity between the donor and the recipient, the recipient has to take drugs throughout his life, which will prevent the graft kidney from being rejected. Such drugs are prednisolone, azathioprin and cyclosporin. These drugs do prevent rejection but at the same time decrease the immunity (resistance) of the patient to fight infection. Infections happen to be the most common cause of fever and it should not be taken lightly, especially in these patients. Infections can be bacterial, viral, fungal or parasitic — bacterial being the most common. After six months of transplant, generally common community-acquired infections do occur. So, a hygienic and healthy diet and a healthy environment are recommended for these patients at least for three months after which they can work as other do. But taking care while going to congested and dirty places is necessary. Also, the regular use of the above-mentioned drugs without missing any dose is strongly recommended.
Another problem faced by these patients is rejection because the body treats the new kidney as foreign tissue. Rejection can occur in a few days or in a few weeks — or even after a few months. The anti-rejection drug, methylprednisolone, is used. Another very effective drug is OKT-3, which can be used in resistant rejection but it is very costly and one course costs about Rs 70 -80 thousand. Urological complications are rare because of the surgical technique and meticulous care.
Romance and parenthood:
You'll be happy to know that you'll be able to resume normal sexual activity after transplantation. Over time, your sexual desire will return to what you consider normal.
Today, more and more transplant patients are successfully having or fathering children. Both defects are no more common in children of transplant recipients than they are in the general population.
Travelling with a transplant:
Before planning a trip, it is important to check with your Transplant Team and follow these guidelines:
Don't use ice made from unpurified water; to be truly safe, drink and brush your teeth with only purified water.



Try to avoid uncooked or undercooked foods, especially meat and seafood.



Ask your transplant physician if you should get vaccinated for any disease that is found in the areas you are visiting, or if you should get a specific medication.



If you feel yourself getting ill, get to the nearest facility that is qualified to care for transplant recipients.



Avoid extended exposure to the sun.
Take along a supply of your medication — especially your immunosuppressants — that will last throughout your trip; some drugs are hard to come by in certain parts of the world.
Prognosis:
One year survival of kidney transplant recipients all over the world is about 95-98%.
Do:
Keep a record of trade and generic names of all medications you are taking, as well as the dose (milligram) and dosage (number of tablets or capsules per day) of each.
Take all your medication as advised.
Notify your doctors immediately if you've a missed a dose of your medicines.
Keep the medication in a dry place away from heat or light.
Keep the medicines in the original container and out of the reach of children.
Report any side-effects to your doctor immediately.
Do not do:
Do not stop taking medication because of side-effects or because you feel fine.
Do not change your dose-schedule on your own.
Do not take a double dose of the medication if you have missed the previous dose.
Take only the prescribed dose and tell the transplant team immediately if you have missed the dose.
Do not take any medication not prescribed by your doctor, including nonprescribed cough, cold or allergy medications without checking with your doctor.
Do not keep the medicines in the refrigerator or in the toilet cabinet where it can be exposed to moisture.
Do not mix the different tablets or capsules in the same pill container.
Tips for avoiding infection:
Although it is impossible to avoid all potential sources of infection, here are some guidelines that may help minimise the risk:
Try to avoid people who are obviously sick.
Wash your hands as often as possible.
Try to avoid uncooked meat or seafood.
Avoid changing cat litter boxes or bird cages; they can be a major source of infection.
Carefully clean all the cuts and scrapes — no matter how small — with soap and water; then apply an antibiotic ointment and clean; dry dressings are to be done.
Practise good oral hygiene and schedule regular dental checkups and changing; your mouth can be a source of infection.
Most of the infections can be successfully treated. However, you must be able to recognise the warning sign and call your transplant physician or surgeon immediately so that the treatment can begin without delay.
Complications can still occur.
The risks of complications, including the rejection episodes, are greatest during the first six months after your transplant.
If you do get a complication of a rejection episode, remember that this doesn't mean you are going to lose your transplant. Your doctor and, if necessary, your Transplant Team can call for a wide variety of drugs and other treatments to prevent or control most potential problems.
Rejection: know the warning signs:
A summary of the most common warning signs is provided here:
Fever over 100F (38C)
"Flu-like" symptoms: headache, dizziness, fatigue, chills, aches, nausea, vomiting pain or tenderness around your transplant.
Fluid retention or sudden weight gain.
A sudden increase in blood pressure (diastolic pressure over 100) shortness of breath.
A change in the heart rhythm, urine colour or smell, or bowl habits.
Note: you may not discover these signs; you simply may not feel "normal".
Remember: If you even think you are having a rejection, contact your doctors immediately.
The importance of nutrition and exercise:
A common problem after transplant is excessive weight gain. This can lead to many of the complications frequently seen in transplant recipients, including hypertension, diabetes, and atherosclerosis. To limit weight gain, transplant recipients are usually encouraged to eat a well-balanced diet that is low in salts, cholesterol, fat and sugar.
When it comes to weight control and good health, exercise is as important as eating right. As well as helping to minimise the risks of post transplant complications, exercise will result in:
Increased energy.
Reduced stress
Improved sleep
Better emotional health
Better digestion
Improved posture
Be sure to check with your doctor about how soon, and how much, you should exercise.
In the general population, smoking has been identified as a major risk fetors for heart ailments and certain types of cancer. As a transplant recipient, you may be more vulnerable to these conditions anyway; it is strongly recommended that you do not smoke after your transplant. It is also recommended that you limit your consumption of alcohol or, if possible, avoid it completely.
Future directions
Research in transplant is being focused on finding suitable immunosuppressant drugs that will prevent rejection, is less toxic, and renders the patient less susceptible to infection. A few new drugs are FK-506, tacrolimus, 15-Deoxyspurgualine, Mycophenolate mofetil, Rapamycin etc.
Secondly, research is focused on finding a suitable animal donor who can be utilised for humanity. Such animals can be monkeys, baboon and pigs. But the pig seems to be closer to human beings. Such factors as much-improved immunosuppression and ways of altering some of the foreignness of animal tissue by genetic manipulation will help achieve this goal.
The correspondence address of Dr Aulakh is:
Dr Baldev Singh Aulakh, Consultant Urologist & Transplant Surgeon, and Head of the Transplant Department, Dayanand Medical College and Hospital, Ludhiana.