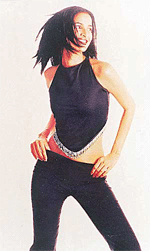 Significantly, in a society steeped in superstition, black used to be seen as inauspicious at one time. The colour had come to be associated with death and mourning till some designers discovered that for the Rajasthanis (a constant source of inspiration in fashion circles), black does not hold any negativity.
Today, they are all designing wedding trousseaus in black! Ritu Beri and Monisha Jaisingh, who were among the first to demonstrate the magic of black on brides, scarcely ever venture into reds and yellows, traditionally considered auspicious by Hindus. And whites are a total no-no now.
"There used to be a lot of fear linked to black," reflects Hemant Trevedi, best known for dressing up many of Indiaís many Miss Worlds. "It was supposed to be an ill-omen. They said if was the colour of Satan, you mustnít wear it on Saturdays and so on."
"They also said that black suited only fair women and that it would only make you look darker," he adds. "That is a fallacy. Black works for everyone. I can understand the concern if you opt for purple. But black is such an intense hue. You can never seem dark as black is the darkest!"
Trevedi points out that black is most flattering for a woman when she gets to show off a bit of her legs. "The dress may or may not be a mini," he explains. "It can be up to the knees or longer ó the length that you are comfortable with. A side slit would make it look more seductive."
Black can also be very formal when coordinated sensibly with matching accessories. High-heeled footwear (especially stilettos), a largish handbag, a light gold chain and belt (depending upon the outfit) can create the right mix of drama and distinction.
Sandeep Narang, a model coordinator, remarks, "While every other colour sends out signals one way or the other, black carries an aura of mystery. It alters all the rules in its wake."
While black lends itself to a minimalist and under-stated look in western wear, designers tend to go overboard with their embellishments in Indian ethnic wear. The objective is always to create a dressy look with a good deal of glitter and dazzle, ranging from sequins to mirror-work, pearls and crystals.
The reason is primarily that such embellishments stand out best against a black surface. This is apart from experiments at combining different fabric textures, embroidery forms (particularly silk thread and golden) and ornamentation.
"Whether you are into salwar-kameez, lehnga-choli or even a saree, the moment you opt for black, you get into an ostentatious mode," explains Preeti Dongre, a designer who admits to a "fetish" for black. "You are making a celebration of yourself. But switch to a western dress and the reverse holds true."
Black, she says, has the added advantage of concealing embarrassing bulges and body imperfections. "The best part is that you can never be too big or too small to wear black," she chortles. MF