Starting from scratch, both Alice and Ashamma have been braving one odd after another to get justice for exploited women. They have courted fear with a vengeance and have gone ahead to accomplish their chosen missions. They know courage is resistance to fear, not absence of it. Today, both of them have many reasons to justify their existence, and each reason is more powerful than the other.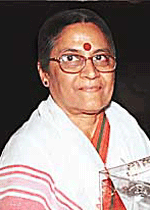 Watching Alice Garg talk is like watching a dormant volcano swell up with lava. She seems to hide a tempest behind her calm exterior. One cannot but help wonder how the frail 61-year-old woman could have waged a war against well-connected criminals. Alice is credited with exposing many infamous cases of sexual exploitation against women in Rajasthan, including the Bhanwari Devi gangrape case which hit the headlines a few years ago and the J.C. Bose case, which sends shivers down the spine.
Alice recalls with pain, "I still remember that sunny day of 1997 when we heard that a young girl had been picked up by eight boys in broad daylight, taken to J.C. Bose Boys' Hostel in Rajasthan University, and gangraped. Pragati Vyas has survived the brutality unleashed on her, but she dies every moment. Her only fault: she is a brave journalist's daughter."
Alice was among the three women who put pressure on the then government to arrest the accused who had high connections. While the case drags on in the Rajasthan High Court, all the accused are out on bail.
Alice, who has till date dealt with a number of such cases, works closely with the rag-pickers of Rajasthan. Born a Parsi on January 14, 1941, the spirit of service came naturally to her. She learnt her first lessons in charity as a five- year-old when she accompanied her father for distributing food to slum-dwellers. She recalls, "I was born on Sankranti day, which is associated with charity and service."
Though for a few years after marriage, Alice was not into social work on a full-time basis, it did not take her long to resign from her job as a government teacher in 1972 and establish Balrashmi, a society for the upkeep of rag-pickers' children. She started with 20 children from the nearby slums and went on to add another 20. For these children, Alice is their mother, teacher, cook... she is everything to them. Gradually, Balrashmi expanded its area of work. Today, with its headquarters in Bassi near Jaipur, the institution runs balwaris, kilkaris (for children between 0 and 5 years), destitute homes (for children up to 18 years of age), nutrition centres, hostels, schools and dispensaries.
Alice has also helped in the rehabilitation of more than 4,000 migrant labourers, who now dwell in the Jawahar Nagar Katchi Basti in Jaipur. Alice says: "In 1975, the government demolished the slums, thus uprooting thousands of people. We, at Balrashmi, commiserated with them. The government was not prepared for their rehabilitation. So every time the government demolished the slums, they came up again. I helped them secure water and electricity connections. That was the first time I invited the government's wrath."
The first case registered against Alice was that of obstructing government officials from doing their duty, as also of causing public nuisance and breaking queues. She recalls, "The police kept warning us against helping the slum-dwellers, but we resisted." These cases, numbering 13, were dismissed about two years ago. But for Alice then it was just the beginning of a long-drawn battle with the powers that be. After the floods of 1981, Alice moved towards the Bassi block, which falls some 26 km from Jaipur. There she started working for the uplift of the women of the area, and helped them generate income. It was around this time that the law and order situation in Rajasthan began to collapse, so much so that in a span of few days, many cases of sexual assault were reported.
The first case that rocked Rajasthan was the death of Roop Kanwar, a young bride from Deorala. It was reported that she had performed sati on her husband's pyre. The other side to the story was discovered later by Alice, who went to the village with other women workers. The villagers told Alice that Roop had been forced by her in-laws to perform sati. They later constructed the Sati Mata temple on the spot where Roop had sacrificed her life. Alice was among the few who strongly denounced the practice of sati and the glorification of its victim. A case was registered against Roop's in-laws, and till today Alice attends its hearings in the Rajasthan High Court.
Barely some time had lapsed before another gory incident came to light. Bhanwari Devi, a saathin working with Mahila Bal Vikas in Bhateri village of Bassi block, was gangraped by 14 men. Alice was one of the complainants in the case. Alice says, "The accused in Bhanwari's rape were also well-connected. We had to stage dharnas, take out torchlight processions to exert pressure for their arrest. The officials were again beginning to get displeased with me."
While these victims were still crying for justice, two other heart-rending incidents occurred: a minor was raped by thakurs of Sripura near Chittorgarh and a woman called Naina Jogani was raped by a Jain muni in an upasara in Bhin Maal. The Naina Jogani case was highlighted by Alice and her co-workers. Says Alice, "Naina used to visit the upasara to meet her son who had been initiated as a muni. The case is still in the stage of investigation." After this, came the JCBose case. With her team of women workers, Alice staged a dharna at Badi Chopad Square in Jaipur for 29 days. The government succumbed to the pressure and arrested the accused.
This achievement proved very dear for Alice, who was booked in nine criminal cases. Her offices were raided, her helpers arrested on charges of sexual exploitation. One of her workers even died in police custody. But as power changed hands in Rajasthan, all the cases were dismissed. Says Alice, "All this while, I was building dikes of courage to hold back the flood of fear. It paid in the end."
Sounding triumphant yet sad, she says she is concerned about the delay in dispensation of justice. "Unless the accused are punished, our purpose remains defeated." At present, Alice is engaged in a field study on social evils rampant among the Sansis of Rajasthan. This "criminal tribe" has absurd customs that undermine women. Parents can marry off the daughters as many times as they desire, and all for money. The bridegroom must pay to marry the girl. As a result, Sansi girls are forced to have innumerable partners just to satisfy the financial needs of their parents. Alice has also published a study called The Mehters of Jaipur. The study is based on people inhabiting the 68 slum dwellings of Jaipur.
Alice Garg's fight for justice and her work to uplift the downtrodden only confirms that the relevance of courage never expires.
The story of Ashamma, a socially-marginalised woman who has been fighting for her rightful place in society, too follows along the same line.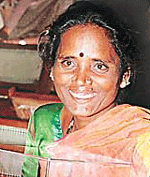 At 35 years of age, Ashamma has nothing to share with the world expect tears. She comes from Karni village in Mehbubnagar district of Andhra Pradesh, where women belonging to the lower caste are considered objects of entertainment. Ashamma was made to undergo the jogini ritual when she was seven years old. As per this custom, she was married off to the village deity. Recalls Ashamma, "Since the day of the initiation, I have not lived with dignity. I became available for all the men who inhabited Karni. They would ask me for sexual favours and I, as a jogini, was expected to please them. My trauma began even when I had not attained puberty."
At 11, Ashamma attained puberty. As soon as the news spread, men hounded her all the more. She was forced to sleep with countless people, some of whom were much older than her. Still in her teens, Ashamma delivered a girl child. "I bore the child from the man I loved, but he did not marry me. Later, I escaped from the village," she says. But all the time she was reminded that she was a jogini and should not act like a pativrata.
During those days the Andhra Pradesh Mahila Samatha Society was running sanghams in villages. These forums voiced the concerns of sexually exploited women. When Ashamma heard the views of its leaders, she was impressed. She swore to fight against the baseless custom of jogini.
In 1997, Ashamma became the head of the sangham which operated in Karni. As the leader of the forum, she discouraged the practice of jogini. Her mission revolved around thwarting the attempts of villagers to initiate young girls into this evil practice. She still remembers how hard she had to fight in order to save a nine-year-old girl in her village from becoming a jogini. The police had refused to help her and no one in the village was prepared to cooperate with her. But Ashamma sat in protest until she succeeded in preventing the initiation ceremony.
The two courageous women were awarded for their services to society in Chandigarh on April 28. The award money comprised Rs 1.5 lakh each. The commitment of these women to their respective cause was evident from the fact that both of them donated a part of the huge sum to their respective societies. Ashamma kept Rs 50,000 for her child and donated the rest to her sangham. Alice donated the money to Rustamji Trust which is dedicated to the amelioration of the plight of the poor.
The stories of such dauntless persons make one wonder why some people risk their lives for complete strangers. Douglas Mc Arthur had rightly observed: "Last, but by no means least, is courage — moral courage, the courage of one's convictions, the courage to see things through. The world is in a constant conspiracy against the brave. It's the age-old struggle — the roar of the crowd, on the one hand, and the voice of your conscience, on the other."