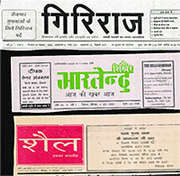 For seven months from April to October, the government from Calcutta (from Delhi after 1911) and Lahore used to function from Shimla. Four periodicals—Courier, Station, The Shimla Times and Simla News—were published during the period. The Gazetteer of the Shimla District, 1904, reads: "The Simla News, which comes out weekly, is the only one which is more than an advertisement sheet. Pioneer Bulletin is published daily throughout the season containing the latest telegrams." The Simla Times, which was later converted into a daily, survived longer than the other papers and was published till the second decade of the 20th century. Liddle's Simla Weekly was another weekly that used to be published from Shimla in the 1930s. The Liddel's Press was located where the State Bank of Patiala near the Scandal Point exists today. Its report about the construction of Band Stand on the Ridge that appeared in the issue of May 4, 1935, is interesting, "The contractor who built it, we are told, ran short of material and... finished the roof with slates stolen from Government High School."
Ramgarhia Gazette, a Punjabi weekly was started from Shimla in 1920. It reflected the political consciousness of the Sikhs and was one of the oldest papers carrying religio-philosophical teachings. Its editor was Hazara Singh Assi. Its publication stopped once but was revived again. It finally closed down about five years ago.
There is also a mention of Fauji Akhbaar from Shimla during the 40s. In and around 1942, Rajkumari Amrit Kaur edited Mahatma Gandhi's Harijan from Manorville at Summer Hill in Shimla.
After Independence, popular daily newspaper of Punjab The Tribune shifted from Lahore and its two-page issue came out from Shimla on September 25, 1947. The number of its pages increased to six and then to eight by the end of January, 1948. Its editor then was Rana Jung Bahadur. After him, J. Natarajan took over. This newspaper shifted to Ambala Cantonment and finally to Chandigarh. The publication of The Tribune from Shimla also made The Hindustan Times bring out a two-page supplement from there in 1949. This arrangement was suspended in 1955-56.
With the formation of Himachal Pradesh in 1948, arose the need to have its own papers or periodicals. Acharya Diwakar Dutt Sharma and Shambhu Dutt Shastri started a weekly Vishwashanti in 1948 from Shimla that carried news and views about Himachal Pradesh. Its publishing, however, had to be stopped due to economic reasons.
The year 1955 is an important year in the journey of journals in Shimla. A monthly Hindi magazine, Himprastha, was published from Shimla by the Public Relations and Tourism Department and edited by Hari Krishna Mittoo and Ram Dayal Neeraj. It carried stories, poetry, articles and happenings in the state. It earned name and fame in the North and is being published even today.
Diwakar Dutt started a Sanskrit monthly, Divya Jyoti, on October 12, 1956. Edited by Keshav Sharma, it is the only Sanskrit magazine in India to have covered 44 years of its journey. The 40s and 50s saw the coming of many new periodicals from Shimla. Madan Lal Madhu and Mahendra Pratap Joshi started Sudha, a literary weekly; Ghanshyam started a weekly, Him Jyoti, which was later edited by Ratan Singh Himesh who also tried his editorial skill in Him Tarang before he became the Editor of Krishi Jagat, a monthly of the state's Department of Agriculture. Hira Singh Pal, a politician, started Himachal Sandesh in 1948. It reflected the ideology of the then Indian National Congress. Its editor was Jayanand Shastri. Another politician J.B.L. Khachi in association with J.N. Kaul started an English weekly, Challenge, in 1956. Jai Chand started and edited a magazine called Him Vani in 1956. All these magazines survived for, at the most, five or six years and then had to be closed down. The Himalaya Times edited by Dwarika Prasad Uniyal, could be counted as one of the weeklies of repute then.
Jharna a magazine started in 1954 by the Department of Rural Development is alive today in its new avatar, Panch Jagat, and under the banner of the Department of Panchayati Raj.
The reorganisation of Punjab in 1966 and the formation of greater Himachal Pradesh with an enhanced population created a place for a non-government daily of its own. Sita Ram Khajuria attempted to fill the void in 1975 by taking on the editorship of Veer Himachal. The daily, however, could not withstand the problems of transportation, printing material, timely news gathering, etc and had to be shifted to Chandigarh with a changed name, Shivalik Sandesh, the next year.
A number of journals were being published in Shimla in the sixties and the seventies. These were: Him Pratap; Him Kesari, continued for eight to nine years starting from 1969-70; Himachal Darpan, started in 1965 by Gopi Ram and Kashmir Singh and later Ram Rattan Pal edited it till his death recently; Himachal Janata (1967-68, Editor Kameshwar Pandit); Lokraj (1970 to 1974); Parvat ki Goonj from 1971 to date, edited by Bishambhar Lal Sood; Himvan (M.P. Joshi- 1970-71); Himbala by Radha Raman Shastri, who later became Education Minister in Shanta Kumar's government; Himachal Saundarya by Khushi Ram Sharma; and News Post in English by Sita Ram Khajuria.
Him Bharati, a magazine in Pahari started by the state's Culture Academy in 1967 is continuing in the same form even today. Baldev Sharma's Shail, a monthly magazine started in 1974, has been upgraded to a weekly today. A weekly newspaper, Giriraj, was introduced in 1978. Its circulation crossed the magic figure of 10,000 by 1984. It continues even today as the mouthpiece of the Government and is laden with photographs of the Chief Minister in power.
The state government's Department of Languages, Art and Culture started two magazines Vipasha, in Hindi and edited by Tulsi Raman, and Fikro funin Urdu and edited by Dharam Pal Aquil. Both of them had high literary standards and continue to remain popular with litterateurs. Him Voice a monthly magazine in English by Gautam, was also started in the eighties but it did not last long. Himachal Sewa, a daily by Santoshi, started in the eighties with great fanfare but it, too, could not be sustained, Himalaya Surya edited by Zia Siddiqui, was published as a coloured weekly in 1996 but it switched over to single-colour printing within one year of its existence. Its circulation touched about 16,000 at one point of time.
Himachal Tribune, a weekly paper edited by Dev. S. Pandhi, has been regularly appearing since its publication about a year ago. It is a sister publication of the long-standing Himachal Times, a daily edited at Shimla by Pandhi.

The tabloids made an entry in Shimla in the late nineties. Sanchaika Mail, a daily eveninger in Hindi carried on from April, 1998, to March, 2000. Another one Bharatendu Shikhar (April 2000) edited by Lokesh Sood, too, faced closure. Indian Express came with a bang to start a weekly tabloid in English, Shimla Newsline, on April 22, 2000. But even this established newspaper could not continue with the tabloid and had to suspend its publication on February 17, 2001.