150 gm Cheese
2tbsp Fresh bread crumbs
Method:
Cut the eggplant into half lengthwise.Score around the inside with a knife and scoop out the flesh with a spoon taking care not to pierce the skin.Brush the hollows with oil.Chop the eggplant flesh and set it aside.
Heat the remaining oil in a frying pan, over medium heat and fry the onion till translucent.Add the chopped garlic and fry for a few seconds.Add the chopped eggplant flesh and fry for five minutes,stirring frequently.Add the tomato sauce and season with salt and pepper.
Fry for 10 minutes till it becomes thick.Brush a baking tray with oil and arrange the eggplant shells.Divide half the tomato mixture between the four shells.Arrange cheese on top and cover with the rest of the filling.Mix grated cheese and breadcrumbs, sprinkle it on top of the stuffed eggplants pressing it lightly into the mixture.
Bake in a pre-heated oven for 25 minutes or till the topping is golden brown.Serve hot with boiled rice.
Eggplant in sauce
Ingredients: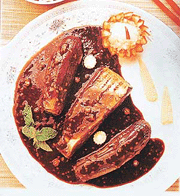 Long eggplant 4
Sesame seeds 1 tbsp
Chicken broth 1\ 4 cup
Soya sauce 1\ 2 cup
Ginger paste 2 tsp
Oil for frying
Salt to taste
Method:
Wash the eggplants thoroughly and dry .Remove the stems and cut into half.Mix some salt ,half of the ginger paste and soya sauce and apply on the pieces and keep for 20 minutes.Heat oil in a karahi and gently put the eggplants in it and cook till soft.
Roast sesame seeds on slow fire till golden brown.Mix soya sauce ginger paste and sesame seeds.Adjust seasoning according to taste and spoon this sauce over the eggplants.
Spicy eggplant
Ingredients:
Small round 8-10
eggplants
Tamarind 100gm
Sesame seeds 50gm
(fried and powdered)
Groundnuts 100gm
(powdered)
Jaggery small lemon sized (powdered)
Asafoetida a pinch
Red chillies 1\ 2 tsp
Garam masala 2 tbsp
powder
Method:
Wash and dry the eggplants.Make four slits in each keeping the stems intact.Keep these in salted water for some time.
Mix sesame seed powder,groundnut powder, garam masala, salt and jaggery powder in a mixing bowl with 50 gm oil.Remove eggplants from water and fill masala into the cut sections and keep aside without letting these fall apart.
Pour the remaining 50 gm of oil in a karahi and fry onion slices til brown.Place the stuffed eggplants in this and cook on a low flame.Turn the eggplants so that these are cooked evenly on all sides.Sprinkle some water at regular intervals.When these are semi-cooked pour in the tamarind juice.Remove from fire when the gravy is cooked properly and thick.