In fact, the huge job losses vindicate those who had warned of a meltdown in spring last year and predicted that the unemployment levels may rise to 5 per cent by the end of 2001. The recession in the world's most vibrant economy is now evident and may be even bigger than the one which hit the USA in 1991.
As can be expected in such circumstances, stock prices on both the Nasdaq Stock Market and New York Stock Exchange rose close on the heels of the announcement on growing unemployment. The Washington Post said that "the investors saw in the news an encouraging sign that businesses were moving aggressively to cut costs, trim excess capacity and return quickly to profitability." However, this is only one part of the story and relates to short-term salvage operations launched by businesses. The other more disconcerting part is that the rising unemployment levels may lead to a cut in consumer demand and weaken the economy further, thereby raising unemployment levels once again. It also means that as the so-called fat gets trimmed and companies get leaner, they will start looking more and more inwards for cost-effective input solutions. In other words, outsourcing will be slashed and international trade in services and material will go down. Already, the expectation is that the rate of growth of world trade will halve by year- end because of various levels of recession in major economies around the globe. Japan is down and with the USA accounts for 45 per cent of the global output. According to the World Bank, global GDP is expected to grow by 2.2 per cent in 2001. In 2000, it grew by 4 per cent. The news from the USA will only add to the misery and may cause a further slowdown. The growth will be less than half of what it was last year.
What does all this mean for India which is in its very first year of the WTO? Well, exports will be hit and the impact is already being felt. The first and the most visibly hit were Indian software professionals working in America, though the downslide is evident everywhere ---for the first two months of this year, garment exports were down by 16 per cent in value terms and 13.5 per cent in volume terms as compared to last year's figures. Another export item, Moradabad's brassware, was down by 50 per cent. Till last year, goods worth over Rs 900 crore were exported to the USA alone. Besides, there has been a 20 to 25 per cent decline in value terms of most other items manufactured or serviced by the private sector in India. The figures to a large extent validate a study conducted by the National Council for Applied Economic Research (NCAER) some time back on the sensitivity of Indian exports to changes in world GDP. According to the study, our exports elasticity of demand to world GDP has doubled in the post liberalisation era. It used to be 1; it is now 2, and if global GDP goes down as predicted, the altered export scenario may cast a dark shadow on the rate of growth of our economy. But more about it later.
The April figures of job cuts in the USA have set alarm bells ringing louder in leading IT centres in this part of the world. Already, the indicators were menacing as billing was down by as much as 30 per cent during the last quarter and Indian companies were hard put to keep their heads above water. This has meant that the number of jobs go down. Though low-end jobs are the worst hit and the figures are still not very clear, a general idea of the crunch can be had from the fact that recruitment from top-of-the-line business schools in India for IT-related jobs has gone down dramatically. Only 11.4 per cent of those graduating from IIM, Ahmedabad, could get placements in the IT sector this year as compared to 26 per cent last year. At IIM,Lucknow, the figure fell from 45 per cent to 30.8 per cent and at IIM, Bangalore, the hub of IT in India, it was 20.8 per cent down from 28.3 per cent last year.
There is also a fear that revenues from telecom and net-networking may be down by a third and there will be a further squeeze on operational margins as major US clients cut back projects and jobs. The number of H1B visas submitted during the last few months eloquently tell the tale. From a high of 53,000 applications received in December 2000, the figure slipped to 30,000 in January 2001 and nearly halved by February. It was a bare 16,000 by the end of that month. The high casualty rate of dotcom companies has also not shown any improvement. There were 58 closures in February 2001, 44 in March and 55 in April.
In the US of A, software professionals of Indian origin are facing the worst time of their careers. At the last count, 1 lakh of the 4.5 lakh H1B visa- holders there have been benched or laid off. Those who still hold jobs have been asked to take a cut in their pay packets. The worst affected are those who went with basic skills through bodyshoppers. For example, a Java programmer who used to earn $100 per hour a year back has to now rest content with $39.99. There is now also a surplus of Java developers and for any job at the entry level there are scores of takers. Compare this to the situation in 1999 when there were not enough people to answer all the job advertisements! Though most of the professionals, especially those with C , C++ and higher skills are still sticking it out in America in the hope that the recession may bottom out, a reverse flow of techies has already started. Bangalore expects 1,000 of its men to be back home during this month itself! The backflow may further compound the problem of placement in our job-starved market.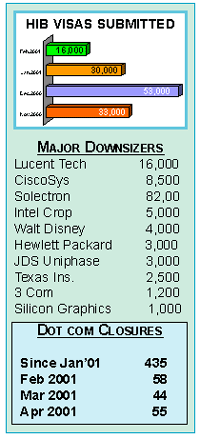 At the macro level, the picture is hardly any brighter. The official estimation of economic growth for 2000- 01 is 6 per cent, which is lower than 6.2 per cent recorded last year and 6.8 per cent the year before. Industrial recession and drought are said to be the reasons for this low expectation. Even if industrial growth is stimulated, the global slowdown will directly affect the growth of our GDP through a cut back in exports. The USA is our largest trading partner and even though India's volume of trade ($10 billion) in relation to its GDP is not a huge factor, revenue officials say that there is nothing to really worry about. Rakesh Mohan, chief economic advisor, Ministry of Finance, said in a recent interview: "I wouldn't say that the Ministry is worried. But it is constantly watching and is concerned if the rest of the world slows down."
However, since 1997 the domestic demand has been sluggish. Industry has failed to pick up and the uncertain situation in the farm sector (which accounts for 30 per cent of India's GDP) because of the drought had created a bleak economic scenario. Indian exports too had stagnated after years of 20 per cent growth. However, in 2000-01, they picked up and reached the pre-1997 rates. In the same year, according to the World Bank, world trade grew by 13 per cent --a record of sorts. However, the growth is expected to halve and be around 5.5 per cent in 2001. Judging by these statistics, a downswing in India's exports appears to be on the cards. What this means is that for every 5 per cent fall in the rate of growth of exports, the GDP will go down by half per cent -- a critical slice off a GDP figure which is 6 per cent. This becomes all the more threatening if the monsoon fail and the agriculture sector does not register its apportioned 6 per cent rate of growth.
Statistics and informed crystal-gazing apart on the likely outcome of a drop in exports, the fact remains that a global village has come to exist. Movement in one part of the world affects another and a chain reaction starts.The Asian Development Bank in its recent report specifically stated that India and China "will obviously be affected by the US slowdown given the importance of exports in their recent expansions" and any talk to the contrary would be akin to an ostrich-like approach. India, fortunately, has adequate reserves and a small current account deficit. They should stand her in good stead. Moreover,a round of demand stimulating measures domestically may well offset the worst-case scenarios and help the country achieve a 6 per cent plus growth rate, which in the current era of economic meltdowns may be the most impressive the world over.