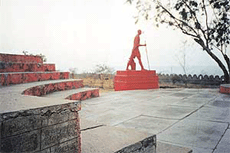 The question arises as to why the concept of mauna, which requires a highly evolved and mature human mind, is imposed on restless and impatient beginners. Well, where else but in a true paathshala is the childís mind supposed to get motivated, right from the start, towards an appropriate and wholistic education? Our ancient scriptures and texts bear ample testimony to the fact that the learned sages of India emphasised more on inner peace, tranquillity and absolute calm through observance of silence. And the sooner one initiates oneself into the experience, the better disciplined the one might be. Ancient Indian concept of complete schooling also laid great stress on the fact that by observing mauna at the end of the day, the pupil was able to introspect about his behaviour, duties and responsibilities that might enable him to perform better the next day. Instead of the guru finding faults and pointing them out before the rest of the students, the pratha of our gurukul system believed in the siddhanta of self-realisation and subsequent reformation. This was the essence of a complete Guru-shishya shiksha pranali.
It is indeed commendable that there is in our country even today, a centre for learning that not only maintains an ancient legacy but also is equally convinced of its merits. When the kurta-pyjama clad students come and sit in Astachal, they are not merely fulfilling a schoolís curriculum, but are also attempting to know their own selves by observing silence while watching surya ast.
Even a visitor to Astachal returns a more focused and silent person, realising that a personís inner strength is best tapped early in life. Instead of overburdening students, something that happens in most schools of India, the need is to introduce ancient practices such as mauna to enhance a studentís personality.