IN PASSING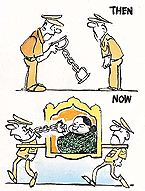 by Sandeep Joshi
No treaty on extradition
Kuala Lumpur, May 15
Prime Minister Atal Behari Vajpayee's four-day visit to Malaysia ends tomorrow without the signing of the much talked about extradition treaty between the two countries.
Karnal DCC chief's brother stabbed to death
Karnal, May 15
Mr Jugal Kishore Sharma (53), elder brother of Mr Vijay Sharma, president of the city Congress, was murdered here last night by three car-borne persons.
'Thirsty' residents block traffic
Shimla, May 15
Enraged residents of Vikas Nagar today blocked traffic for over six hours on the bypass road in protest against the failure of the local municipal corporation to ensure regular and adequate water supply in their area.
Drought-hit land owners sell ice cream
Bathinda, May 15
Continuous drought for the past three years in various parts of Rajasthan has compelled landowners to sell ice-cream in neighbouring states to earn their livelihood as their land has turned barren. Rajasthan landowners who are not able to earn their living from agricultural land, have been going to other states like Maharashtra, Gujarat and Punjab.
Jaya sworn in CM
May 15, 2001
AIADMK, Cong, Left Front back in power
May 14, 2001
2 Hinduja brothers allowed to go abroad
May 13, 2001
Decision on CDS deferred
May 12, 2001
Poll violence claims 13 lives
May 11, 2001
4 states go to polls today
May 10, 2001
Laloo, Mishra may be arrested today
May 9, 2001
Sonia blasts AGP, BJP
May 8, 2001
Plot to kill Tehelka chief uncovered
May 7, 2001
Ultras kill 6 Cong men
May 6, 2001
Charges dropped in Ayodhya case
May 5, 2001